AC/DC Switcher suits communication applications.
Press Release Summary: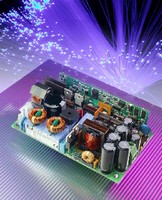 Delivering over 200 W across full universal AC input range from 3 x 5 in. footprint, Model EMA212 is 1.34 in. high and achieves 10.55 W/in.³ power density. Main output is 12 or 48 Vdc, but power supply also has 5 V, 100 mA standby output and 12 V, 1 A output for powering fan. With efficiency over 90% at full load, unit needs 12 cfm airflow for full power operation at up to 50°C ambient and will operate at up to 70°C ambient without derating.
---
Original Press Release:

World's first 212W AC/DC Switcher in 3 x 5 inch Package



XP Power has brought together a series of proven power supply design techniques in a new and innovative way to create the world's smallest 212W, single output AC/DC switcher dubbed the EMA212. Designed for communications applications, the power supply has been developed to meet the needs of networking equipment, voice over IP systems, wireless LANs, servers, storage area networks and post-production broadcast equipment. Designers of these systems demand higher power from AC/DC units in industry-standard 1U formats as processing power and functionality grows within tight space constraints.

The EMA212 is the first AC/DC switcher to deliver over 200W across the full universal AC input range from an industry-standard 3 x 5 inch footprint. It is 1.34 inches high and achieves 10.55 Watts per cubic inch power density without compromising performance or functionality.

With efficiency over 90% at full load, the EMA212 needs only 12 CFM air-flow for full power operation at up to 50 degrees C ambient and will operate at up to 70 degrees C ambient with de-rating, eliminating the need for a wind tunnel within the mechanical design of the end equipment. The main output is 12 or 48VDC but each power supply also has a 5V, 100mA standby output and a 12V, 1A output for powering a fan. The unit incorporates a fully featured signal set including AC fail/DC OK, active PFC, remote on/off and active current sharing. The following complementary design techniques were combined to achieve the performance of the EMA212.

The size of the input filter was reduced with a 2-stage design using miniature, high permeability cores. Stacked mounting of the cores minimizes the printed circuit board area needed and maximizes cooling effectiveness. The power factor correction circuit uses a silicon carbide (SiC) diode to gain a further 1% efficiency over a traditional diode and snubber circuit combinations, while a stepped-gap inductor, operating in continuous mode, reduces peak switching current and minimizes filter requirements. Switching losses are virtually eliminated by using a resonant zero current switching (ZCS) topology for the main converter circuit. Switching occurs at the zero current point from 0 - 100% load. Furthermore, a 100 kHz switching frequency enables the use of small magnetic components without compromising efficiency. Also in the main converter, a ceramic substrate replaces the conventional heat sink, offering additional space savings. The same thermal management technique is used for the output rectifiers. Here, the adoption of synchronous rectification eliminates nearly all switching losses, keeps noise levels low, and minimizes both costs and board area. Power factor correction (PFC) is achieved using a once cycle control (OCC) circuit, rather than an average current control mode operating over several cycles. This OCC technique eliminates six passive components, saves PCB space and reduces cost.

Overcurrent, overvoltage and short circuit protection are all built into the EMA212 and the power supply meets all major international specification for safety and EMC performance.

The EMA212 is sampling now with production quantities available from September 2006. Units are priced at $82 each for 1000 pieces.

For further information and reader enquiries:
Duane Darrow, XP Power, 305 Foster Street, Littleton, MA 01460
Tel: (978) 287-7260
Fax: (978) 287-7222
Email: ddarrow@xppower.com
Web: www.xppower.com

XP Power is committed to being a leading provider of power solutions, including AC-DC power supplies, DC-DC converters. With ISO9001:2000, XP Power offers total quality, from in-house design through to manufacturing facilities around the world. The company offers the widest range of power products available from one source and unrivalled technical and customer support, aiding both vendor consolidation and cost reduction programs. XP has 25 sales offices throughout Europe and North America.

XP Power Plc, a London Stock Exchange listed public company, has design centres in Pangbourne and Sawbridgeworth (UK), Boston (Massachusetts), and Sunnyvale and Anaheim (California). The design teams, together with those of partner companies, push back the boundaries of cost and technology, providing market leading power products. A dedicated Added Value Engineering team configures customer specific solutions. Using in-house CAD and design expertise, XP promise a rapid response. The applications team provide technical support to help customers integrate and use XP power products worldwide.

Related