AC-DC Power Supplies provide up to 1,200 W output.
Press Release Summary: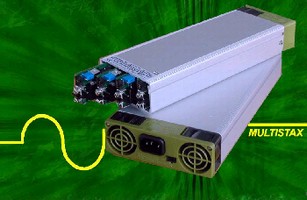 Accommodating universal input of 85-264 Vac and 120-380 Vdc, 1U high Multistax Power Supplies come in 4- or 6-slot models based on plug-in power modules that convert intermediate bus voltage to output voltage required by user. Customers can specify 700, 1,000, or 1,200 W model, each accommodating up to 6 fully floating power modules with up to 240 W output power each. Single and dual output modules cover dc output from 1.5-58 V and provide up to 50 A output current.
---
Original Press Release:

New Ultra Low Profile, Quick Configure Multi-Output AC-DC Power Supply from Powerstax



Up to 1,200W output
1U high rack mount
24-hour shipment

April 2006 - Powerstax plc of Farnborough, England, announces the introduction of the new Multistax range of ultra-low profile AC-DC power supplies. Multistax combines rapid configuration of multiple outputs with high efficiency making a very versatile and "green" power solution.

The 1U high, 4 or 6 slot Multistax range has been specifically designed to allow easy and rapid configuration. This is achieved by employing an internal architecture based on simple plug-in power modules that convert the intermediate bus voltage to the specific output voltage required by the end user.

Customers may specify one of three different front-end power units either 700W, 1,000W or 1,200W and the required output modules to meet the their specific application. Powerstax will assemble the system from stock, configure as required and typically ship the final system within 24 hours.

Each Multistax Power Unit can accommodate up to six fully floating Power Modules of up to 240W output power each. These may be fitted in any combination, provided the overall required output power does not exceed the total power capacity of the front end. The range of eight plug-in output Power Modules covers DC output voltages from 1.5V to 58V and includes single and dual output versions as well as units that can provide up to 50A output current.

Flexibility of the Multistax system is further enhanced by being able to adjust the output voltage of any module over a wide range. Adjustment may be carried out via a screwdriver adjustable potentiometer or remotely, using a resistive divider or voltage reference source. In addition, by using standard cross-connect links, output modules can be connected in parallel for increased current, or in series for increased voltage.

The distinctive green case moulding reflects the excellent conversion efficiency of up to 90%, which minimises heat dissipation and simplifies thermal management. The AC-DC Power units are fitted with field replaceable cooling fans and are rated for full power operation over an operating temperature range of -20°C to +60°C.

Ideal for use with the latest 1U-high rack-mount equipment, the ultra low profile of 40.4 mm and a compact footprint of 260mm × 127mm means that Multistax power supplies have a high power density of more than 15W/in³.

Featuring a universal input that accommodates 85V AC to 264V AC (47 Hz to 63 Hz) and 120V DC to 380V DC, the product range includes built-in EMI filtering that ensures the units meet rigorous international EMC specifications, including EN55011, EN55022 and FCC level B for conducted and radiated emissions and EN61000-4-x level 3 for immunity to conducted and radiated RFI, electrostatic discharge, fast transients, line surges and voltage dips. Every Multistax Series Power Module provides better than ±0.1 percent line and ±0.2 percent load regulation, and holds output ripple and noise to less than 1 percent peak-peak.

Additional features include an indicator LED to confirm that each module is operating within normal ratings and an optional remote alarm provides signals for AC input failure, fan failure and over-temperature conditions. A 5V bias standby voltage is also provided

Tim Worley, CEO of Powerstax comments, "this new range of highly configurable power supplies continues our approach to the market of providing application rich, innovative and leading-edge products. We set out to ensure that our customers get the right product for their applications without having to make any compromises."

The Multistax range is available immediately and dependent upon specification, prices start from USD 410 each for quantities of 100 pcs. Details on the Multistax range are also available in the new Powerstax AC-DC shortform catalogue obtainable FREE from the Powerstax web site at www.powerstaxplc.com.

About Powerstax:
POWERSTAX plc (formerly Advanced Power Conversion PLC) specialises in the design, manufacture and marketing of high power density, high efficiency AC-DC and DC-DC power supplies including DC-DC Converters, Configurable, Modular SMPS, plus AC Rectifiers and Bulk Power PSU. In addition Powerstax provides Value Added and complete Custom Power Solutions. Powerstax provides standard and custom AC & DC power solutions for centralised and distributed power (DPA) in a broad range of applications including hot swap front end AC-DC bulk power, DC-DC converter bricks and programmable, modular rack mounted SMPS, for use in Telecomms, Datacomms, IT, Industrial, Test & Control, Transportation, Avionic, Defence, Medical and all commercial markets.

For more information contact;
Emma Barnes
Powerstax plc.
Unit B5, Armstrong Mall, Southwood Business Park, Farnborough, Hampshire. GU14 0NR. England.
Tel: +44(0)1252 407800 Fax: +44(0)1252 407810
email: sales@powerstaxplc.com

More from Controls & Controllers