AC/DC Power Supplies ensure continuous operation.
Press Release Summary: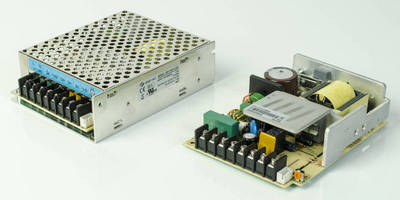 Via built-in battery charging and back-up functionality, PSF series targets applications requiring 100% uptime. These 75, 100, and 155 W units, under normal operating conditions, can charge stand-by battery and supply direct power to load. Accommodating universal input voltage of 90–264 Vac, series includes dual output version  of 13.8 and 27.6 V output, and triple output models add 5 V, 3 A regulated output. Open frame and enclosed versions are available with or without built-in fan.
---
Original Press Release:

AC-DC Power Supplies Ensure Continuous Operation with Addition of Battery Charging and Back-Up Features



TUALATIN, Ore. — CUI Inc announced the release of a new ac-dc power supply family targeting applications that demand 100% uptime.  Available in 75 W, 100 W and 155 W configurations, the PSF series is designed with built-in battery charging and back-up functionality.  Under normal operating conditions, the units are able to charge the stand-by battery and also supply direct power to the load. In the event of electrical power (AC) failure, the PSF series automatically switches to DC power from the battery source to ensure continuous operation of the system.



The PSF series accommodates a universal input voltage of 90~264 Vac and is available in two different output formats. The dual output version features 13.8 V and 27.6 V – one output goes towards powering the load, while the other output is available to charge the battery.  The triple output models include an additional 5 V, 3A regulated output.  The PSF series comes with built-in protections that add a great deal of flexibility and decrease complexity for the system designer. Protections include brownout (due to low AC input voltage), battery low cut-off, and battery polarity by resettable fuse. These features are in addition to over-load, output over-voltage, constant current limit, and short circuit protections.



The series is available in form factors that include open frame and enclosed versions, with or without a built-in fan. All models carry UL/cUL and TUV 60950-1 safety certifications for ITE, commercial and industrial equipment.



The PSF series is available through distribution with prices starting at $73.59 per unit at 100 pieces. Please contact CUI for OEM pricing.



Summary

Product name: PSF-75 Series, PSF-75-CNF Series, PSF-100 Series, PSF-100-CNF Series, PSF-155-CF Series, PSF-155-CFN Series

Availability: 10-12 weeks for production

Target Markets: Commercial and industrial applications designed for security systems, surveillance, signage, CCTV, motion detectors, ticketing machines, etc.

Primary features: Battery charging function and battery back-up system (batteries not included).

Cost: Starting at $73.59 per unit through distribution for 100 pieces of the PSF-100 series.



Media contacts

CUI Inc

Maggie Lefor

+1 503 612 2300

mlefor@cui.com

twitter.com/cuiinc



Publitek technology PR

Derek Rye

+44 (0)1225 470 000

derek.rye@publitek.com



About CUI Inc

CUI Inc is a technology company focused on the development and distribution of electronic components. At the leading edge of power supply design, the organization supports customers as they strive to improve the energy efficiency and environmental credentials of their application.  The company's power group is complemented by a portfolio of world-class board level components, consisting of interconnect, sound, motion control and thermal products.  An unwavering commitment to create collaborative partnerships with customers and a drive to see that their design project is a success has been a hallmark of CUI's sustained growth since its founding in 1989.   As a leader in the industry, CUI will continue to invest in the future through new technologies, talented employees, expanded manufacturing capabilities, and a growing global reach.



CUI Inc is a subsidiary of CUI Global, Inc., a publicly traded company whose common stock trades on the NASDAQ Exchange under the symbol CUI.

More from Mechanical Power Transmission