AC/DC LED Drivers come in IP67 rated case.
Press Release Summary: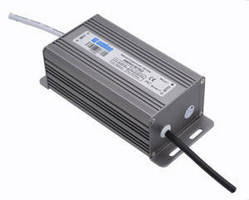 AC/DC Constant Current LED Drivers accept universal input voltage of 90-264 Vac at 47-63 Hz, with certain models accepting inputs of 170-250 Vac at 40-63 Hz. Units provide output voltages from 2-90 Vdc and constant output current from 0.3-4 A. Operating from -50 to +55°C, drivers offer efficiencies up to 88% and input to output isolation up to 3,000 Vac. Short circuit, over current, and over voltage protection preserve performance under fault conditions.
---
Original Press Release:

New AC/DC LED Drivers in IP67 Rated Case



Aimtec leads with AC/DC LED Drivers

High output current (up to 4A)

Weatherproof (IP67)

Montreal, Canada - Aimtec has unveiled an extensive new line of AC/DC constant current in rugged IP67 rated enclosures. In adding these twenty-two new AC/DC LED drivers to its existing line of DC/DC LED drivers, Aimtec is confirming its plan to become a leading supplier in the LED market.

Aimtec's newest selection AC/DC Constant Current LED drivers accept a universal input voltage range of 90-264VAC at 47-63Hz, with certain models accepting inputs of 170-250VAC at 40-63Hz. Wide output voltages range from 2VDC to 90VDC feature short circuit, over current and over voltage protection to preserve the longevity and performance under fault conditions, even when operated at or near full load. Constant output currents range from 0.3A to 4A, and some feature Power Factor Correction (PFC) as high as 0.98, which helps to reduce the power consumption and improve overall energy efficiency of the LED application.

Boasting efficient rates as high as 88%, input to output isolation up to 3000VAC and a small form factor, Aimtec's AC/DC LED drivers provide turn key solutions that minimize the applications' energy costs and carbon footprint.

Functional at an operating temperature range of -40°C to +55°C at full load, within waterproof and dust tight IP67 enclosures, these rugged power supplies can withstand water immersion of up to 1m in depth and protect against all dust infiltration. Competitively priced starting at $7.52/1000 pieces, Aimtec's AC/DC LED drivers are designed to be used in street signs, traffic lights, architectural and industrial lighting applications, in addition to major house hold appliances. Safety standards include GB195110.1-2004/IEC61347-1:2003, EN55015, EN61000, EN61547.

Aimtec LED Drivers

Type of LED Driver                      Series Name

AC/DC Constant Current                  AMERx-KZ AMEGRx-KZ  AMEPRx-KZ

AC/DC Constant Current with PFC         AMERx-KC-C1  AMEGRx-KZ- C1

DC/DC Constant Current                  AMLDL-Z  AMLD-IZ

About Aimtec Inc.

Aimtec is a global supplier of modular AC-DC and DC-DC switching power converters and LED drivers for a wide range of industrial, IT, telecom, datacom, lighting, transportation and medical applications. In addition to an expanding catalogue of thousands of low watt modular power converters, Aimtec provides complete design and engineering support for customized power supply requirements.

Aimtec offers cost effective, feature-rich modular DC/DC switching power supplies which provide many competitive advantages. Headquartered in Montreal, Canada, Aimtec's products are supported by world class customer and technical support.

An ISO 9001:2000 accredited organization, the company's design, manufacturing and quality control standards allow it to consistently deliver power converters that meet or exceed clients' and end users' expectations. Safety and regulatory standards and include RoHS, cULus, CE, TUV and CB.

More from Thermal & Heating Equipment