AC/DC Desktop Power Adapters offer MTBF of 300,000 hours.
Press Release Summary: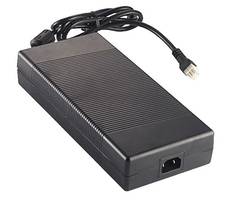 Offering output voltages of 12 V, 15 V, 24 V or 48 V, 300W TDM300 Series AC/DC Desktop Power Adapters are available in class I with IEC 320/C14 AC inlet and class II with IEC 320/C18 AC inlet. Featuring 8-pin Molex mini-fit female connector, units are housed in black-colored plastic package with LED power indicator. Operated from 0 °C to +40 °C temperature range, products come in 10 x 4.57 x 1.85 in. size. Providing power factor of 0.9, adapters are RoHS compliant.
---
Original Press Release:
TRUMPower's Low Cost 300W Fan-less Medical Grade Desktop Adapter Meets 4th Edition EMC Standards
TRUMPower has added the new 300W TDM300 series of low cost medical grade AC/DC desktop power adapters to its product line-up. Using the power supply ensures compliance to the latest IEC/EN 60601-1-2 4th edition EMC standards.
The TDM300 Class I units come with an IEC 320/C14 AC inlet and class II units are furnished with an IEC 320/C18 AC inlet. The series offers standard single output voltages of 12V, 15V, 24V or 48V with continuous output power of 300 watts; other output voltages are available upon request. Both Class I and Class II units come with a standard 8-pin Molex mini-fit female connector that comes with a quick latch to secure the output connection. TRUMPower offers additional connector and cable options and can accommodate special requirements.
The TDM300 series is approved by UL/cUL and TUV to the latest medical standards, including IEC/EN/UL 60601-1 Edition 3.1, ANSI/AAMI ES 60601-1: 2012, CSA-C22.2 No. 60601-1: 2014. The power adapter complies with IEC 60601-1-2 4th edition medical EMC and immunity standards including EN 55011/FCC/CISPR 11 class B (conducted and radiated emissions), EN 61000-3-2, EN 61000-3-3, EN 61000-4-2 (ESD at 15kV air and 8kV contact), EN 61000-4-3, EN 61000-4-4, EN 61000-4-5, EN 61000-4-8, EN 61000-4-11.
With efficiency of 87% minimum @ full load, the TDM300 series is in compliance with CEC & Energy Star level VI and ErP stage II requirements. It carries CE marking, is RoHS compliant and has PSE approval as well. Packaged in a low profile black-colored plastic enclosure with LED power indicator, the unit has a size of 10 x 4.57 x 1.85 inches.
The BF rated power adapter has a 90 to 264 VAC continuous input range and 0.9 power factor. Withstand voltage is specified at 4,000 VAC from input to output (2 x MOPP) and 1,500 VAC from input to ground (1 x MOPP). With earth leakage current being lower than 200µA @ 264 VAC, the TDM300 power adapter can operate at an ambient temperature range of 0°C to +40°C. Its MTBF is higher than 300,000 hours at full load and 25°C ambient, calculated per Telecordia SR-332. With no load power consumption <0.5W, the power supply is fully protected against over voltage, over temperature, over current, and short circuit conditions.
The TDM300 is competitively priced in OEM quantities. For a complete models list and technical data, please visit http://www.trumpower.com/library/tdm300.pdf or email sales@trumpower.com.
TRUMPower has been delivering high quality medical and industrial grade AC/DC switching power supplies and DC/DC converters for more than 25 years. The company's medical grade power supplies range from 4W to 1200W and its line of ITE grade AC/DC power supplies range from 3W to 1400W in wall mount, desktop, open frame, and ATX PC form factors. TRUMPower can accommodate to OEM's needs, whether they are low volume standard power supplies or high volume custom products by providing excellent service, reliable and cost-effective power solutions. As a result, it has been an ever-trustable source of power supplies for many satisfied customers over the years.
For more information on the company and its other products, visit www.trumpower.com or email us at wsales@TRUMPower.com
Contact:
Lyann Yu
Tumbler Technologies + TRUMPower
3350 Scott Blvd.,Building 13
Santa Clara, CA 95054, USA
Phone: (408) 988-6616 Ext. 102
Fax: (408) 988-6622
Email: LyannY@TRUMPower.com
More from Software