Absolute Rotary Encoders are virtually failure-free.
Press Release Summary: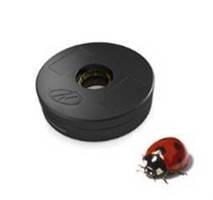 Available with analog or digital outputs, DS-25 Rotary Electric Encoders™ provide accurate absolute position with miniature to wide diameter hollow shaft and no bearings or other contacting elements. Internally shielded, DC operated units include electric field generator, field receiver, sinusoidal shaped dielectric rotor, and processing electronics. With 7 mm profile, miniature encoders are insensitive to magnetic fields and offer high tolerance to temperature, shock, moisture, and EMI/RFI.
---
Original Press Release:

Netzer's DS-25 Lightweight Miniature Absolute Rotary Encoder



Rotary Electric Encoders™ from Netzer provide exceptionally accurate, high resolution, absolute position with miniature to wide diameter hollow shaft and are available with analog or digital outputs.



The holistic structure of the Electric Encoder™ provides generous mounting tolerance, thus obviating the need for internal ball bearings.  The lack of bearings and components such as flexible couplers, glass disc, light sources and detectors, along with very low power consumption makes the DS-25 encoder virtually failure free.  The internally shielded, DC operated Electric Encoder™ includes an electric field generator, a field receiver, a sinusoidal shaped dielectric rotor, and processing electronics.  The outputs signals of DS-25 Electric Encoder™ are analog Sine / Cosine representing the rotation angle, incremental or absolute position.

The DS-25 is well suited to demanding applications such as: aerospace, medical, instrumentation, automation, etc.



Key Features:

• Lightweight miniature absolute rotary encoder

• Hollow, floating shaft

• No bearings or other contacting elements

• High precision

• High tolerance to temperature, shock, moisture EMI & RFI

• Insensitive to magnetic fields  

• Total weight of 4gr

• Low profile of 7mm

• Analog Sin/Cos , Digital SSi or Digital AqB+I outputs 



Information on the DS-25 Modular Absolute Encoder from Netzer can be viewed at the link below-

http://www.electromate.com/products/series.php?&series_id=101696

More from Fluid & Gas Flow Equipment