Absolute Optical Linear Scale covers lengths to 167 in.
Press Release Summary: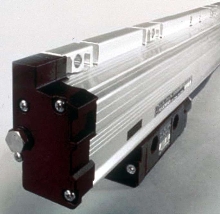 Suited for dynamic extended travel applications, sealed LC 182 offers constant signal quality over entire measuring length and resolution down to 0.02 µm. It incorporates single-field scanning method that utilizes single scanning window, mitigating any effects of contamination. With EnDat as well as other absolute interfaces and max traversing speed of up to 120 m/min, unit is suited for use in linear motor and high-speed machines tool applications.
---
Original Press Release:
Extended Travel Absolute Optical Linear Scale Now Available from Heidenhain

SCHAUMBURG, IL - (June 2005) - Once again leading the industry in precision measurement component developments, HEIDENHAIN CORPORATION now introduces the longest absolute optical linear scale. Adding to its family of model LCs, this absolute sealed LC 182 linear scale can now cover measuring lengths of up to 4240 mm (167" or almost 14 feet).

In the past, the requirement for long absolute measurement was partially met by incremental scales featuring distance-coded reference marks. With this new truly absolute system, now all kinds of dynamic extended travel applications -- even linear motors and high speed machines tools -- can take advantage of the use of these absolute optical scales offering HEIDENHAIN EnDat and other popular absolute interfaces.

In this encoder, HEIDENHAIN has incorporated its single-field scanning method (versus a previous four-field scanning method) into the design. This utilizes a very large single scanning window, thereby mitigating any effects of contamination, and offering high traversing speeds and increased natural frequency.

The LC 182 also boasts constant signal quality over the entire measuring length, resolution of down to 0.02 µm and a maximum traversing speed of up to 120 m/min.

For more information, contact HEIDENHAIN at (847) 490-1191, or write to us at HEIDENHAIN CORPORATION, 333 E. State Parkway, Schaumburg, IL 60173. HEIDENHAIN can also be accessed directly via our web site at www.heidenhain.com or e-mail at info@heidenhain.com.

HEIDENHAIN CORPORATION is the North American subsidiary of DR. JOHANNES HEIDENHAIN GmbH, a leading international manufacturer of precision measurement and control equipment. Our product line includes linear scales, rotary and angular encoders, digital readouts, digital length gages, CNC controls and machine inspection equipment.
More from Fluid & Gas Flow Equipment