Absolute Optical Encoders suit ultra high vacuum environments.
Press Release Summary: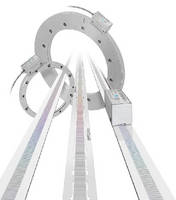 Constructed from vacuum-compatible materials and adhesives, RESOLUTE(TM) UHV Encoders offer true-absolute position feedback and resolutions to 1 nm for both linear and rotary applications. Units determine position immediately upon switch-on, without need for any movement or battery backup. Designers can choose from variety of linear scales in either stainless steel or ZeroMet(TM) low thermal expansion alloy, with accuracy to better than ±1 µm on lengths up to 1.13 m.
---
Original Press Release:

Renishaw Introduces World's First True-Absolute Optical Encoder for Ultra-High Vacuum (UHV) Environments



RESOLUTE(TM) UHV is the latest ultra-high vacuum compatible readhead from Renishaw, offering true-absolute position feedback, sub-micron accuracy and resolutions to 1 nm for both linear and rotary applications. The new range of RESOLUTE UHV encoders are constructed from clean vacuum-compatible materials and adhesives to give low outgassing rates and proven clean residual gas analysis (RGA), making them suitable for high performance, semiconductor and scientific applications requiring vacuum compatibility to 10-10 Torr.

Like the standard range of RESOLUTE true-absolute encoders, the new ultra-high vacuum variant determines position immediately upon switch-on, without the need for any movement or battery backup. Instant commutation means axes are immediately under control after power loss. This eliminates risks of unchecked movements or collisions, an advantage that is essential in applications such as wafer handling, where safe extraction of high-value wafers is critical.

Safety is assured via a built-in, independent position-checking algorithm that actively checks every reading, ensuring any potential problem is flagged before it reaches the controller. RESOLUTE UHV uses pure serial communications with CRC (cyclic redundancy check), which eliminates the need for auxiliary 1 Vpp signals, offers higher noise immunity and detects data corruption. Available with a wide range of serial protocols, including BiSS, FANUC, Mitsubishi and Panasonic, RESOLUTE UHV is compatible with industry standard controllers.

With more than a decade of experience in supplying high-accuracy optical encoders for UHV environments, Renishaw carefully selects materials to ensure low outgassing rates and a proven clean RGA. It is the only encoder company that publishes representative RGA test results. All UHV encoders are supplied with an RFI-screened, UHV compatible cable. They are manufactured in clean conditions and shipped in specially designed packages to avoid contamination.

RESOLUTE UHV systems are available for both linear and rotary position feedback, and because the RESOLUTE system uses a single-track scale code, each installation is compact with wide set-up tolerances for quick, easy fitment and long-term operation. All scale formats are coating-free and can be subjected to specialist cleaning and degreasing, if required.

Designers can choose from a variety of linear scales in either stainless steel or ZeroMet(TM) low thermal expansion alloy, with accuracy to better than ±1 µm on lengths up to 1.13 m. Mounting can be either self-adhesive, mechanical or track-mounted. The self-adhesive scales also have proven clean RGA spectra. Stainless steel rotary rings feature large through-holes and patented taper mounting for quick, easy and precise adjustment of eccentricity, while minimizing shaft preparation costs.

As with all Renishaw encoders, RESOLUTE UHV is RoHS compliant and backed by a global sales and support network. For more information on RESOLUTE UHV linear and rotary encoders, as well as Renishaw's full line of magnetic sensors, contact Howard Salt, business manager, encoder systems at 847.286.9953, or email: howard.salt@renishaw.com

Contact

Jeffrey Seliga

Renishaw, Inc.

5277 Trillium Blvd.

Hoffman Estates, IL 60192

Tel:847.286.9953

Fax: 847.286.9974

Jeffrey.seliga@renishaw.com

Inquiries should be directed to:

In USA: Susan Wilm, Marketing Assistant, Renishaw Inc., 5277 Trillium Blvd., Hoffman Estates, IL 60192. susan.wilm@renishaw.com Tel: 847.286.9953

In Canada: Dafydd Williams, General Manager, Renishaw (Canada) Limited, 2180 Dunwin Drive, Unit #1, Mississauga ONT L5L 5M8. dafydd.williams@renishaw.com Tel: 905.828.0104