Absolute Magnetic Rotary Encoder produces analog output.
Press Release Summary: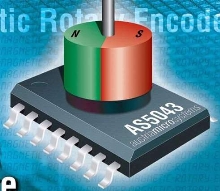 Suited for industrial and automotive fields, Model AS5043 provides contactless solution for motion sensing applications. It produces analog voltage proportional to measured angle in addition to 10-bit digital position information. Combining adjustable angle range and analog output voltage range, unit features zero position programming, diagnostic features, and daisy chain mode. Step size of analog output may vary from 0.35°-0.09° per step.
---
Original Press Release:

austriamicrosystems Adds AS5043 Absolute Analog Output IC to its Magnetic Rotary Encoder Family


Unterpremstaetten, Austria (May 10, 2005) - austriamicrosystems further expands its rotary encoder family by introducing AS5043, an absolute analog magnetic rotary encoder IC. The AS5043 offers a highly reliable, contactless solution to a variety of motion sensing applications in the industrial and automotive fields, where an analog position information is required.

The AS5043 provides an analog voltage proportional to the measured angle, in addition to a 10-bit digital position information. By combining adjustable angle range and analog output voltage range, a user can program the device to operate within a predefined, application-specific angle range. The AS5043 also offers all other distinctive features of austriamicrosystems' magnetic rotary encoder IC family, such as zero position programming or diagnostic features related to magnet mechanical position and magnetic field presence. As an additional safety feature, the device provides warning in case of a power loss.

"The AS5043 outperforms current motion sensing solutions, such as high end potentiometers, in terms of reliability and lifetime due to its contactless sensing method. For example, the biggest disadvantage of potentiometers is the fact that they are using a mechanical contact which wears out over time," said Ralf Kodritsch, marketing manager for Sensors & Automation at austriamicrosystems. "Furthermore, the high degree of device programmability, be it the adjustable angular and voltage range or the specific performance settings, makes the AS5043 superior to commonly used potentiometer solutions."

Adds Matjaz Novak, marketing director at austriamicrosystems: "The flexibility, small form factor and high reliability of the AS5043 make this device attractive for use in a variety of industrial and automotive applications. With this device, we specifically aim to provide an alternative to analog motion sensing applications where changing to a digital solution would neither be technically or commercially attractive."

The AS5043 provides both analog as well as a 10-bit digital position information. Depending on the angular range settings, the step size of the analog output may vary from 0.35 degrees to 0.09 degrees per step. In addition, the AS5043 can be selected by the user for optimized operation at either high speed or high accuracy. The daisy chain mode allows the connection of several devices in series over a two-wire bus. The AS5043 operates at either 3.3 V or 5 V. The operating temperature ranges from -40°C to +125°C. The AS5043 is available in a lead-free SSOP 16 (5.3mm x 6.2mm) package. The AS5043 will be available for sampling in June.

About austriamicrosystems
austriamicrosystems is a leading designer and manufacturer of high performance analog ICs, combining more than 20 years of analog design capabilities and system know-how with its own state-of-the-art manufacturing and test facilities. austriamicrosystems leverages its expertise in low power and high accuracy to provide industry-leading customized and standard analog products. Operating worldwide with more than 800 employees, austriamicrosystems focuses on the areas of power management, sensors & sensor interfaces, portable audio and car access through its business units Communications, Industry & Medical, Automotive and Full Service Foundry. austriamicrosystems is listed on the SWX Swiss Exchange in Zurich (ticker symbol: AMS). For further information please visit www.austriamicrosystems.com

For More Information Contact
Sonja Pieber-Hascher
Media Relations
austriamicrosystems AG
Tel: +43 (0) 3136 500 5968
Fax: +43 (0) 3136 500 5420
[email protected]