Absolute Encoders support Profibus-DP communication.
Press Release Summary: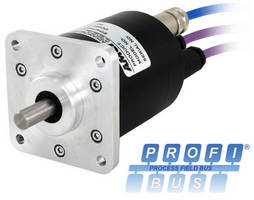 Comprised of heavy-duty rotary sensors, resolver-based NR25 series offers overall measuring range of 16 bits (single-turn resolution) plus 12 or 14 bits (number of revolutions). Absolute single- and multi-turn versions, compatible with all PLCs that support Profibus-DP, deliver up to 30-bit (65,536 steps x 16,384 revolutions) resolution and come in IP67-rated, 2.5 in. dia package with 3 M12 connectors on back. Solid and hub shaft versions as well as stainless steel units are available.
---
Original Press Release:

Profibus Communication Added to Absolute Encoders



Terryville, CT - Advanced Micro Controls Inc. (AMCI), adds Profibus-DP communication to their lineup of NR25 series encoders. These heavy duty rotary sensors provide an overall measuring range of 16 bits (single-turn resolution) plus 12 or 14 bits (number of revolutions), up to 30 bits total. With both single-turn and multi-turn versions available, AMCI's Profibus encoders (http://amci.com/rotary-encoders/nr25-profibus-dp-absolute-multi-turn-rotary-encoder.asp) are ready for any application. AMCI NR25 Profibus-DP encoders are compatible all PLCs that support Profibus-DP.

NR25 Profibus-DP Encoder Features:

Up to 30 bit (65536 steps x 16384 revolutions) Resolution

Absolute Single-turn and Multi-turn

Resolver-based Durability

IP67 Ingress Protection Rating

Solid Shaft and Hub Shaft Versions

Stainless Steel Units Available

Profibus is a supplier-independent, open field bus standard for a wide range of applications in manufacturing and process automation. Profibus-DP is the most frequently used communication profile in Profibus. It is optimized for speed, efficiency and low connection costs and is designed especially for communication between automation systems and distributed peripherals.

Simplify Installation and Cut Costs
These Profibus-DP encoders utilize a "daisy-chain" bus topology, with a single Profibus cable wired from the master (such as a PLC) to the first slave (device) and through each additional device on the network. The NR25 can be programmed through the host PLC software, eliminating the need to learn additional software. A downloadable PC-based GUI (graphical user interface) allows you to easily set the address, position resolution, counting direction, velocity format, and preset value through the Profibus network.

LEDs on the NR25 Profibus encoder help technicians troubleshoot from the factory floor by displaying diagnostic information including device and network status.

The Package
AMCI NR25 Profibus encoders are offered in a 2.5" diameter package with three M12 connectors on the back, supplying power and Profibus-DP connectivity. The NR25 encoder is resolver based, (http://amci.com/tutorials/tutorials-what-is-resolver.asp) meaning that it is designed to provide absolute position feedback without glass discs or sensitive LED components; enabling it to withstand high levels of shock and vibration. The IP67 rated package is the solution for single-turn and multi-turn position applications requiring protection from dust and water ingress. Stainless steel versions are also available for food grade and marine environments.

AMCI NR25 Series encoders are now available with Profibus-DP, EtherNet/IP, or Modbus TCP connectivity. For more information on AMCI NR25 series encoders, visit our website>> www.amci.com

About Advanced Micro Controls Inc.

Founded in 1985, Advanced Micro Controls Inc (AMCI) is a leading U.S. based manufacturer with a global presence. Our industrial controls improve the performance and profitability of today's factory and automation systems. AMCI specializes in the design, manufacturing, and sales of eight different product families. Long standing relationships with the biggest names in industrial automation enable our team to deliver innovative, competitive products that are designed for years of reliable performance.

Media Contact: Bob Alesio
Telephone: (860) 585-1254 ext.128
Email: balesio@amci.com

Advanced Micro Controls Inc.
20 Gear Drive
Plymouth Industrial Park
Terryville , CT 06786 USA
Telephone: (860)-585-1254
Facsimile: (860) 584-1973
http://www.amci.com

More from Computer Hardware & Peripherals