Absolute Encoder targets oil and gas industry.
Press Release Summary: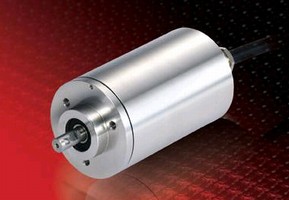 Measuring 69 mm in dia, Acuro(TM) AX71 provides up to 17 bits of single-turn resolution and 12 bits of multi-turn resolution. It features stainless steel construction for corrosion resistance, IP67 sealing, and bearings that withstand shock loads up to 100 g. ATEX-certified housing allows encoder to be used in explosive environments without electrical barriers. Based on Opto-ASIC technology, self-grounding unit operates from input voltage of 10-30 Vdc at temperatures to 120°F.
---
Original Press Release:

Dynapar Introduces Compact, High-Resolution Absolute Encoder for Oil and Gas Industry



Gurnee, IL - April 30, 2007 - Dynapar, a division of Danaher, introduces the Acuro(TM) AX71 absolute encoder, a compact, high-resolution unit tough enough for use in the oil and gas industry. Absolute encoders increase accuracy and reduce downtime compared to standard incremental encoders that provide motion feedback in racking systems, rough necks, draw works, and top drives.

The 69-mm diameter Acuro AX71 encoder provides up to 17 bits of single-turn resolution and 12 bits of multiturn resolution. A wide input voltage range of 10-30 VDC allows the Acuro AX71 encoder to be used almost anywhere in the world. It also is compatible with a wide range of communication protocols, including SSI (Synchronous Serial Interface), ProfiBus, and CANbus, simplifying wiring and setup and reducing cabling costs.

Tough Enough for Drilling Rigs
Absolute encoders typically are considered too delicate for demanding drilling applications. The Acuro AX71 absolute encoder was designed with the help of a major drilling services firm to operate reliably under conditions of severe mechanical shock and vibration, high temperatures, and explosive environments.

Besides stainless-steel construction that resists marine settings and corrosive contaminants, the Acuro AX71 incorporates such heavy-duty features as IP67 sealing and rugged bearings to withstand high shock loads up to 100 g. An ATEX-certified housing allows the encoder to be used safely in explosive environments without requiring the installation of electrical barriers.

High ambient temperatures, combined with radiant heat from the sun, can raise the temperature inside a tightly sealed encoder and weaken its electronic components. The electronics of the Acuro AX71 incorporate special substrates and diodes that ensure reliable operation to 120 degrees F. In addition, the Acuro AX71 encoder is self-grounding to prevent shorting out.

Proven Absolute Technology
The core of the new encoder technology is an advanced Opto-ASIC (application-specific integrated circuit) that provides not only high resolution and accuracy, but also diagnostic capability. Although all these features have been employed in previous Dynapar encoders, they have never before been available in a single, complete package.

"The AX71 absolute encoder is now field-proven technology for the demanding environment of the oil and gas industry," said Mark McElhinny, Dynapar Business Unit Director.

Applications
Dynapar, which introduced the world's first true vector-duty hollow shaft encoder, will market the Acuro AX71 absolute encoder under the Hengstler brand name. In North America, the encoder will be targeted primarily for use in the oil and gas industry where its performance features are in high demand.

The new encoder is well suited for other harsh-duty applications as well. Volatile or combustible liquid bottling and capping machines, paint manufacturing lines, and coal processing and transport machinery can all benefit from using the Acuro AX71 encoder. It is also suitable for installations that do not necessarily require the explosion-proof feature, including harsh wash-down applications such as food-and-beverage packaging machinery, boiler cleaning equipment, and automated car wash machines.

Cost and Availability
The Acuro AX71 encoder is immediately available for the general market and can be purchased through Dynapar distribution channels in the U.S. and abroad. List prices start at about $2500. For more information, contact Dynapar at 800-873-8731 or visit www.dynapar.com.

Incremental Versus Absolute Style Encoders Incremental encoders measure motion as a stream of electrical pulses counted from a home starting position. If there is strong electrical noise or other problem, operators must drive the machine to a home position. Absolute encoders use a newer technology. Because every position is expressed as a unique digital byte, they never need re-homing and are resistant to noise. The introduction of an absolute encoder for the oil and gas industry will reduce interruptions to drilling operations and increase productivity

About Dynapar
Dynapar is a world-leading manufacturer of optical and magnetic encoders and resolvers with more than 50 years of experience in engineering and manufacturing rotary feedback devices. Dynapar was founded in Gurnee, Illinois in 1955 and has been expanded through the acquisitions to include Dynapar(TM) Hengstler(TM), Acuro(TM), NorthStar(TM), and Harowe(TM) brand product lines. Dynapar is now uniquely a provider of technologies spanning optical, magnetic, and resolver based feedback.

Pioneering the first true vector-duty hollow-shaft encoder launched Dynapar's strong presence in several industries, including steel, paper, elevator, oil and gas, wind energy, medical, material handling, and industrial servo manufacturers. From small kit encoders to large mill-duty tachometers, Dynapar has the industry covered.

Dynapar customers rely on expertise and support provided from the U.S. sales and manufacturing location in Gurnee, Illinois: Phone +1 800.873.8731 or +1 847.662.2666; FAX +1 847.662.6633; Website: www.dynapar.com. In addition, Dynapar supports global customers with local sales and production locations in Germany, Japan, China, and Brazil.

More from Machinery & Machining Tools