Abrisa Technologies Ultra-Thin Mirrors (0.1 to 0.55mm) are Ideal for Compact Devices Requiring Miniaturization, Lightweight & Low Profile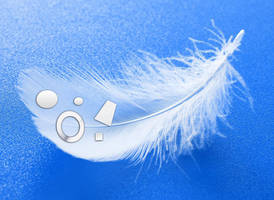 October 19, 2022 – Abrisa Technologies offers ultra-thin (0.1 to 0.55 mm) mirrors that can be inserted into compact devices needing miniaturization, ultra-lightweight or where space for beam steering is at a premium.
According to Susan Hirst, General Manager of Abrisa Industrial Glass (AIG) a division of Abrisa Technologies, "Ultra-thin, lightweight mirrors and optics are ideal for use in unmanned drones and UAV's, hand-held surgical devices, compact LiDAR systems, head-mounted AR displays and other portables, and wearables."
Susan further adds, "Abrisa Technologies' ultra-thin mirrors are offered with standard and custom mirror coatings for use in the UV to IR. Metallic coatings already deliver high reflectivity over a broad spectral range, however, Abrisa Technologies' ultra-thin mirror coatings also incorporate special dielectric layers that enhance the reflectivity to values as 93-98%, which can also be custom tailored for specific wavelengths and angles."
Abrisa Technologies Provides the Following Thin & Ultra-Thin Mirror Options:
Cut-to-Order Mirrors:
• Enhanced Aluminum on 0.55 mm Soda Lime Float Glass
Custom Coated Mirror Options Include:
• Visible Enhanced Aluminum on 0.1-0.4mm • Violet Enhanced Aluminum on 0.1-0.4mm
• Blue/Green Enhanced Aluminum on 0.1-0.4mm • Red Enhanced Aluminum on 0.1-0.4mm
• NIR/Diode Enhanced Metallic on 0.1-0.4mm
• Semi-Transparent Mirrors with AR on 0.1 – 0.4mm
- more -
Media Contact: Lori Appel (805) 312-5873
Ultra-Thin Mirrors
Abrisa Technologies, a member of HEF Photonics, is a globally recognized technology glass fabrication and optical thin film coating company with expertise in high volume manufacturing and engineering capabilities, delivering Total Solutions that provide excellent performance, fitness-for-use, and economies of scale.
Our US based, state-of-the-art ISO 9001:2015 and ITAR registered facilities include Abrisa Industrial Glass in Santa Paula, CA, and ZC&R Coatings for Optics in Torrance CA. These two divisions produce solutions from cut-to-order coated glass components to custom complex and ready-to-install fabricated, strengthened, optically coated, electronically enabled, and branded sub-assemblies.
Our Total Solutions serve a variety of markets including Micro-Electronics, Defense and Avionics, Display, Industrial Automation, Optical Sensors, Imaging, Photonics, Medical & Dental, Life Science and more.