Abrisa Technologies Now Offers Custom Fabrication and Optical Coatings for Corning® Willow® Glass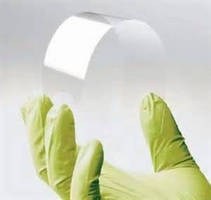 Santa Paula, CA – Abrisa Technologies, a specialty flat glass and high performance thin-film optical coatings company, recently added Corning® Willow® glass to its offering of stock materials available for custom fabrication and thin film coating.



This robust yet flexible substrate material is as thin as 70 microns with diameters of up to 200 mm (8") allowing for novel applications of glass, in technology enabled industries where device processing efficiencies are key. Excellent coating efficiencies can be achieved with up to 28 of such wafers being coated in a single run.



Jim Walker, Engineering Sales Manager of ZC&R Coatings for Optics, an Abrisa Technologies Company notes that "The expertise we have developed in handling, fixturing and masking these super-thin glass materials allows us to serve some very advanced applications such as ultra slim micro displays, sensor cover glass, liquid crystal based fiber optic switches and micro electro mechanical systems (MEMS). Our coating efficiencies and yields are extremely high despite the complexity of the substrate material" he continued "and this provides a major advantage ¬to our customers as they strive to offer unique yet highly affordable solutions to their customers".



ZC&R now offers custom engineered thin film coatings applied to ultra-thin glass microsheet substrates of 200mm diameter, 6" square or customer sized including:



Corning® Willow® Glass

SCHOTT D263® Teco – extremely thin and flexible

SCHOTT AF32® eco – extremely thin and flexible

Corning® Eagle XG® – high performance

SCHOTT MEMpax® – ultra-thin borosilicate



Indium Tin Oxide (ITO) a transparent conductive coating and Index-Matched (ITO) as well as narrow and broadband AR coatings improve optical throughput and reduce stray light noise while providing low reflectance and good sheet resistance control without sacrificing optical performance. These and other custom high performance vacuum deposited coatings are available for deposition onto ultra-thin glass upon request.



Abrisa Technologies is a recognized global supplier of high quality, fabricated glass components, optical thin film coatings, and custom glass solutions for a wide variety of industries. From our US based Abrisa Industrial Glass fabrication facility in Santa Paula, CA and our ZC&R Coatings for Optics division in Torrance, CA we serve diverse industries such as microelectronics and displays, semiconductor, military, automotive, aerospace, medical, biomedical and scientific R&D. We provide custom specialty flat glass and coating products for applications such as: flat panel display, touch and gesture recognition; visible to IR imaging and surveillance; entertainment, indoor and outdoor lighting; advanced instrumentation; and photonics.



Contact us at www.abrisatechnologies.com for more information and to request a quotation.





More from Labels Tags Signage & Equipment