Abrasive Grinding Wheel removes mill scale.
Press Release Summary: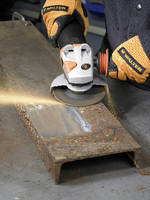 Pairing refined, friable abrasives with open diamond cut pattern, FLEXCUT MILL SCALE Grinding Wheel can remove thin layer of iron oxide covering surface of hot rolled steel plates, sheets, or profiles without glazing or disc clogging. In addition to removing mill scale, wheel features FE-Free formulation that is guaranteed to not contaminate aluminum and is effective when used for rust removal on heavily rusted plates, aluminum, or galvanized metal.
---
Original Press Release:
Walter Surface Technologies Releases FLEXCUT MILL SCALE Grinding Wheel for
Montreal,  – Walter Surface Technologies, a global leader in surface treatment technologies, today announced the introduction of the FLEXCUT MILL SCALE grinding wheel.  The new FLEXCUT MILL SCALE grinding wheel has an innovative product design that improves mill scale removal and takes the hassle out of the mill scale removal process.  The FLEXCUT MILL SCALE is a premium performance flexible grinding wheel that is specially formulated to prevent glazing or disc clogging and uniquely designed with a wider surface contact area for faster and easier mill scale removal.

"Iron oxide or mill scale removal is often a tough, time-consuming and costly undertaking.  The hassles involving dust-clogged discs and frequent disc changeovers lead to lost productivity. Walter has successfully created the new FLEXCUT MILL SCALE grinding wheel  to eliminate abrasive glazing or clogging, while ensuring a hassle-free mill scale removal experience. Users will benefit from significant time and costs savings by using this premium product,'' says Marc Brunet Gagne, Product Manager,  Walter Surface Technologies.

Premium performance for mill scale removal
The removal of mill scale – the thin layer of iron oxide covering the surface of hot rolled steel plates, sheets or profiles – can be a time-consuming and costly operation. Most abrasives will become glazed or clogged and will stop removing material after just a few minutes.  This forces the operator to change out the disc, resulting in lost time and prematurely spent abrasive discs.  With a unique blend of highly refined, friable abrasives paired with its one-of-a-kind open diamond cut pattern, FLEXCUT MILL SCALE is designed to grind off mill scale rapidly, it will self-dress to avoid clogging, and  continue to work longer than traditional abrasive discs.

In addition to removing mill scale, FLEXCUT MILL SCALE features a FE-Free formulation guaranteed to not contaminate aluminum and is very effective when used for rust removal on heavily rusted plates, aluminum or galvanized metal — ensuring a clean and even surface every time.

FLEXCUT MILL SCALE has been designed to help save time and money when it comes to mill scale removal. This allows users to move on to the next step of operations more quickly and thereby increase productivity. In addition to removing mill scale, FLEXCUT MILL SCALE features an FE-Free formulation guaranteed not to contaminate aluminum & stainless steel, and is effective when used for rust removal, galvanized steel removal, paint removal, and weld blending on aluminum to ensuring a clean and even surface every time.

FLEX CUT MILL SCALE is now available across North America.

About WALTER – 60 years of success, and beyond
Walter Surface Technologies has grown as a leader in surface treatment technologies for more than 60 years providing high productivity abrasives, power tools, tooling, chemical tools and environmental solutions for the metal working industry. Founded in Montreal in 1952, the company is now established in 7 countries throughout North America, South America and Europe. The International headquarters is sited in Montreal and the US headquarters is located in Windsor, Connecticut.

For more information www.walter.com
More from Electrical Equipment & Systems