Abrasion/Pilling Tester integrates touchscreen technology.
Press Release Summary: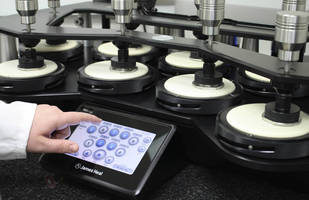 Available for laboratories and retailers in 2-, 5-, and 9-station models, Martindale offers intuitive and adaptable operation via touchscreen. Screen navigation and accessibility of features streamline test setup, while touchscreen design recreates screens used in such devices as mobiles and tablets for facilitated use. Tester's design ensures access to all stations from front, and individual station counters and individual hold function optimize control over each station when testing.
---
Original Press Release:
New James Heal Martindale with Touchscreen Technology Debuts at ITMA Asia
James Heal, a leading manufacturer of premium quality textile testing instruments and consumables worldwide, will use the ITMA Asia Exhibition in Shanghai to launch its new Martindale featuring integrated market-leading touchscreen technology for the very first time.

The James Heal Martindale abrasion and pilling tester, available in 2, 5 and 9 station models, has the ability to test a wide range of applications and is the preferred testing instrument for many of the world's leading laboratories and global retailers. Thanks to the integration of the ultra-responsive James Heal touchscreen, laboratories across the world now have access to the most intuitive, adaptable and easy to use Martindale on the market.

James Heal has been the leading supplier of the Martindale for over 60 years and was instrumental in the creation of the first Martindale working in conjunction with Dr Martindale to design one of his original wear and abrasion test instruments. Over the years, the Martindale has become James Heal's flagship instrument with thousands sold across the globe, underpinning the company's position as one of the instrument's leading suppliers. They also process, test and manufacture the original Martindale Test Materials, recommended for use with this family of instruments.

The Martindale featuring the innovative new James Heal Touchscreen User Interface (TUI) will make it customer debut at ITMA Asia in Shanghai (21st-25th October 2016) alongside the global launch of TUI technology itself which is currently being rolled out across the complete James Heal core Testing Instrument range.

TUI has been specifically designed to dramatically enhance the efficiency and productivity of Textile Testing Laboratories by delivering the best in user-intuitive design and functionality.

James Heal's designers and textile technologists have worked closely with users in the company's working laboratory to produce simple to operate but intuitive software that makes the Martindale easy to control. The host of different features are easily accessed and swift screen navigation ensures the set-up of a test is very straightforward. The touchscreen design itself recreates the screens used in similar, everyday life devices such as mobiles and tablets, enabling users to become instant experts thereby offering substantially reduced training time and increased efficiency. This equates to cost reductions and an enjoyable user experience. The touchscreen is made with toughened cover glass which has been tested to replicate laboratory wear and tear conditions.

Individual station counters and an individual hold function give the user the ultimate control over each station when testing, allowing them to use the instrument to exactly meet their testing needs. The design of each instrument ensures easy access to all stations from the front. This is further enhanced on the 9 station model which is fitted with a hinged lid.

Commenting on the new Martindale with Touchscreen User Interface, Andrew Hemingway, Commercial Director with James Heal said: "Following over six successful decades of development association with Martindale, this is the most exciting milestone in its history to date. With the addition of the new touchscreen, the Martindale really does come into its own in the testing laboratory with numerous benefits including quick and easy to set up tests, individual station counters, a nine language capability and clearly visible end of test times, meaning technicians can be performing other tasks simultaneously.

"Designed with the end user in mind, the new intuitive touchscreen will ensure that the James Heal Martindale is not only the most simple to use instrument on the market but also one of the most efficient and adaptable delivering tangible productivity and bottom line benefits. We're really looking forward to welcoming customers old and new onto our stand at ITMA Asia to put the James Heal Martindale with TUI to the test."

Visitors to ITMA Asia are invited to visit the James Heal stand (Hall 5, Stand F16) to see and experience the James Heal Martindale with new Touchscreen User Interface and consult with our team of experts available on the stand.

Established in 1872, James Heal is an international engineering company renowned worldwide for delivering premium quality, reliable and innovative materials testing solutions. From its core manufacturing and commercial headquarters in the United Kingdom, the company specialises in the design and production of Testing Instruments and Test Materials (consumables) supported by industry-leading service and support.

At the core of the company is the seamless interaction between high quality, precision, reproducibility and reliability combined with innovation, imagination and industry-leading technical expertise. This combination has resulted in James Heal becoming one of the most trusted and valued materials testing companies in the world.

Over the decades James Heal has established itself as the leading supplier of premium textile testing solutions. James Heal designs its Testing Instruments with the users in mind, offering the most user-intuitive and innovative solutions in textile testing. The company also works closely with some of the biggest names in the rubber, paper, wood, plastics and glass industries to develop first-rate materials testing solutions.

For further information please contact -  +44 (0)1422 430696,  marketing@james-heal.co.uk
Related