ABB to Showcase its ABB Ability™ Digital Grid Solutions at IEEE 2018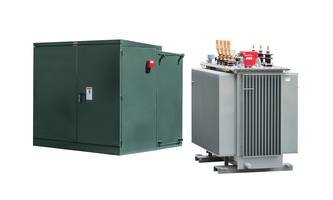 New T&D technologies focus on digital substations and transformers, GIS switchgear and high- and medium-voltage equipment
ABB will unveil new transmission and distribution technologies at the IEEE PES T&D Conference and Exhibition, the leading bi-annual power industry event held in Denver, April 17-19.
ABB's booth on the IEEE exhibit hall floor (booth #2510) will showcase some of its latest technology innovations, with a focus on the digital grid as part of the new ABB Ability™ digital platform, connecting many of ABB's digital products and services to the Internet of Things for utilities.
A Formula E model race car will be a driving force at the ABB booth as part of ABB's title sponsorship with theFIA Formula E Championship international race series, the world's first fully electric international FIA motorsport series, meant to champion e-mobility for a sustainable future. Attendees can see the car up close as well as participate in an Augmented Reality 3-D experience.
ABB experts will also host four pre-show tutorials, five paper presentations and seven poster sessions at the event. For a complete list of technical sessions and times, please click here.
Among its new offerings and product enhancements are several recent ABB developments:
TXpertTM - the world's first digital distribution transformer – A first of its kind, the TXpert increases productivity by integrating mature sensing technology directly into the distribution transformer, providing both inference and predictive analytics.
Tru-Break switchgear module – ABB launches the new Tru-Break solid dielectric molded vacuum switchgear module from Thomas & Betts Elastimold(R). The new module from Elastimold® is submersible with a view port so users can verify that circuits are truly open and isolated in solid dielectric switchgear.
Dead Tank Breaker (DTB) for reactor switching and digital substation – Frequent switching of reactors can take its toll on electrical assets due to damaging transients. Incorporating Metal Oxide Varistors (MOV) with the breaker not only protects the reactor but also extends the number of its operations before interrupter inspection and overhaul. ABB's smart grid-enabled breaker can be equipped with Motor Drive, Fiber Optic Current sensors, and an intelligent local control cabinet helping reduce maintenance and improving integration with substation automation systems.
50 Years of GIS innovation – ABB celebrates its 50th anniversary since pioneering high-voltage gas-insulated switchgear (GIS) technology. The last five decades have seen significant advances in this technology – higher transmission capacity in smaller footprint, digitalization and eco-efficiency. ABB is a global leader in GIS, offering a full-range product portfolio with voltage levels from 72.5 kV to 1,200 kV with more than 30,000 bays installed worldwide.
Surge arresters with spark prevention unit (SPU) – Silicone-housed surge arrester with SPU is an innovative product specially developed for areas with high fire hazard risk. The spark prevention unit senses the current flow through the arrester and monitors its thermal loading. When the connected arrester reaches its load limit, the SPU triggers disconnection of the arrester before it overloads and thus prevents fires.
Station Service Voltage Transformers (SSVT-IPC) – With an intensified focus on the safety of substation personnel and assets, ABB introduces a new line of station service voltage transformers, SSVT-IPC (Internal Arc Protection), designed to meet the stringent requirements of Class II internal arc protection. A trailblazing design, this new addition to the portfolio performs the same functions as the traditional SSVT, but with an increased level of protection to safeguard against eventful failures and catastrophes.
Generator Circuit Breaker (GCB) for most demanding power plant applications – HEC 10 is the third generation of ABB's HEC technology, developed to protect power plants up to 1,500 MW, with two decades of successful field experience to achieve higher performance in a compact footprint.
Volt-VAr Management Software – VVMS is ABB's utility grade software for smart grid distribution automation applications for improvement of power quality. By optimizing VAr flow and circuit voltages, it improves power factor and may result in substantial savings in cost of energy and infrastructure utilization.
Skid-Mounted Substations – ABB's innovative Skid-Mounted Substation solution offers fast and easy deployment, seamlessly integrates renewable generation onto the grid, minimizes civil works as well as installation and commissioning efforts on site. The factory–assembled solutions can be customized from a line bay to a complete H substation and are suited for multitude applications.
SafeGear digital medium voltage switchgear – SafeGear is an advanced MV switchgear solution addressing critical requirements of future system needs for smart, safe and cost-effective electrical applications. By utilizing sensor technology to replace conventional instrument transformers and implementing 61850 communications with GOOSE messaging, ABB has created a more reliable system to meet the increasing demand for safe, consistent power distribution. Digital components aid not only in communications, but in enabling customized configurations for untapped flexibility.
Collaborative Operations – ABB launches ABB Ability Collaborative Operations for Power Generation & Water. Driven from a new ABB Ability Collaborative Operations Center in Genoa, Italy, the new operating model enables leading power generation and water companies to improve operations and maintenance using digital technologies.
Fisher Pierce Capacitor Controls – ABB is exhibiting the Fisher Pierce 5400 Capacitor Switch Controller, the next generation in smart controllers designed to provide abest value, reliable method of switching pole-mounted capacitors. It is designed for easy setup, configuration and monitoring through the large front panel LCD screen and keypad, or by using the PC software.
"Our new ABB Ability digital platform offers utilities the ability to 'power forward' with unprecedented integrated digital products, software and systems expertise for what has become known as the digital grid," said Anders Sjoelin, President of ABB's Power Grids division for North America. "We are pleased to have a major presence at IEEE – including the largest booth on the show floor – and we look forward to helping utilities understand what a digital grid looks like around transmission, distributed energy resources and smart grid resiliency issues."
For registration and more information, including a summary of ABB presentations, visit our IEEE event page.
ABB (NYSE: ABB) is a pioneering technology leader in electrification products, robotics and motion, industrial automation and power grids, serving customers in utilities, industry and transport & infrastructure globally. Continuing a history of innovation spanning more than 130 years, ABB today is writing the future of industrial digitalization with two clear value propositions: bringing electricity from any power plant to any plug and automating industries from natural resources to finished products. As title partner of Formula E, the fully electric international FIA motorsport class, ABB is pushing the boundaries of e-mobility to contribute to a sustainable future. ABB operates in more than 100 countries with about 135,000 employees. www.abb.com
ABB Media Relations
Bill Rose
+1 (919) 244-4879 – mobile
+1 (919) 807-5743 – office
901 Main Campus Drive
Raleigh, NC 27606