ABB Takes Underground Mining to a New Level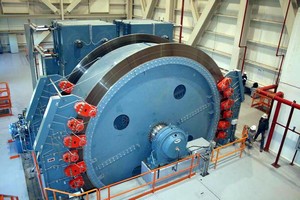 Underground mining relies on hoists to transport people, equipment and ore between the mining zone and the surface. ABB hoist systems are raising productivity, energy efficiency and grid stability for customers all over the world.

Zurich, Switzerland, July 14, 2008 -- Mine hoist systems are a key component in underground mining. They are the most efficient means for transporting crushed ore to the surface from the mining area hundreds or even thousands of meters below ground. And, they are often the only way of conveying staff and equipment up and down the mine shafts.

Speed, reliability and safety are essential in this demanding round-the-clock process, as the efficiency of the hoist system determines the mine's productivity and eventual profitability.

ABB's showcase hoist systems include installations at an iron ore mine in Kiruna, Sweden, operated by LKAB, a state-owned mining company, and a potash mine in Saskatchewan, Canada, run by Mosaic, a maker of fertilizer.

The Kiruna mine is the world's largest underground iron ore mine and its 11 ABB mine hoists make it the largest hoisting plant in the world. ABB is currently upgrading the four underground hoists and has supplied a seventh surface hoist to enable LKAB to boost production capacity by 25 percent to 33 million tons of crushed ore a year.

Mosaic's Esterhazy mine is one of the largest potash mines in the world. ABB recently upgraded one of two production shafts to increase skip capacity by 50 percent and boost mine production by 1.1 million tons a year.

The 8.6-megawatt (MW) motor and drive solution - the most powerful hoist system in the world - has improved energy efficiency at the Esterhazy mine by an estimated 5-8 percent. Despite its huge size and power requirements, it maintains grid stability without the need for additional power correcting equipment.

Productivity, reliability and safety

At the heart of the ABB mine hoist system are three powerful ABB technologies:
the ACS6000 AC drive system, which controls the torque and speed of the giant AC motors that move equipment, people and ore up and down the mine shafts. Even though hoists require huge amounts of electricity, the drive system has negligible impact on the surrounding power network and does not affect power quality for other consumers a hoist control system based on ABB's industry-leading AC800M industrial controller, itself a key component of ABB's flagship automation platform, System 800xA and the ABB Hydraulic Disc Brake System with controlled retardation to ensure the same safe braking force in all operating situations (direction, speed, load and friction)

The result is a mine hoist system that is the recognized benchmark in the global mining industry. ABB has delivered more than 600 mine hoist systems worldwide and is the only supplier with the capability to supply both the electrical and mechanical equipment in a complete solution.

Mining the Sudbury Basin

ABB also has an impressive track record in the Sudbury Basin and is currently involved in significant projects for the two mining majors operating there: Xstrata and Vale Inco.

Xstrata's Nickel Rim South mine is scheduled to open later this year and achieve full annual production capacity of 1.25 million metric tons of crushed ore (nickel, copper, palladium and platinum) in 2009. ABB has supplied four mine hoist systems for the main production shaft, service shaft and two auxiliary hoists.

At Vale Inco's nearby Totten mine, which is scheduled to open in 2010 after a closure lasting more than three decades, ABB is providing a complete power and automation solution for the entire site, including a mine hoist system for the new production shaft.

This follows ABB's successful delivery in 2003 of a mine hoist system for a new delivery cage for Vale Inco's Creighton mine. Located two kilometres underground, the mine is the deepest in the western hemisphere. The cage shuttles personnel to and from the surface round-the-clock. The ABB solution has reduced energy costs by about $150,000 a year and - for the personnel - significantly improved the comfort of their long journey underground.

ABB's hoist offering includes turnkey hoisting systems (including surface towers and shaft components), mine hoist systems, mine hoist products such as brake systems and electric truck haulage systems, as well as consultancy and expert services.

For help with any of the technical terms in this text, please go to www.abb.com/glossary.

ABB (www.abb.com) is a leader in power and automation technologies that enable utility and industry customers to improve performance while lowering environmental impact. The ABB Group of companies operates in around 100 countries and employs about 110,000 people.

More from Construction Equipment and Supplies