ABB Powers LNG Carriers Into New Era of Energy Efficiency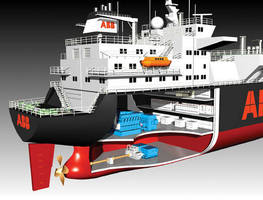 An ABB electric propulsion system for liquefied natural gas carriers has revolutionized LNG transportation by reducing carrier fuel consumption by almost 30 percent while simultaneously increasing cargo capacity.

Zurich, Switzerland, October 12, 2009--The ABB solution is part of a dual-fuel electric propulsion (DFEP) concept that uses a 4-stroke engine (fueled by either natural gas or diesel) to generate electricity, which is then used to power the carrier's electric propulsion system and meet its overall need for electric power.

The concept has been hugely successful, with ABB winning contracts for electric power and propulsion systems for 33 LNG carriers since 2003, when the first-ever orders for LNG carriers equipped with DFEP were made by GDF Suez (then Gaz de France). Two of the three orders were awarded to ABB.

In fact, since 2003 the majority of all new orders for large-size LNG carriers with cargo capacities of between 145,000 and 170,000 cubic meters have been for dual-fuel electric propulsion systems.

Fuel consumption down, cargo capacity up

The dual-fuel electric propulsion system enables carrier operators to deliver more gas, more efficiently and at significantly lower cost than with traditional propulsion systems.

Compared to traditional systems, which have a fuel efficiency of less than 30 percent, ABB's electric propulsion system delivers a fuel efficiency of more than 40 percent. This translates into a 30 percent reduction in fuel consumption and a corresponding lowering of harmful exhaust emissions.

"We hope to gain a 35 percent reduction in operating costs. In sea trials this efficiency was confirmed," commented Dominique Nédelka, shipping manager of GDF Suez, after successful completion of sea trials in 2007

Cargo capacity up 6 percent

The system also increases the cargo capacity of a standard LNG carrier by 6 percent without altering the ships' external dimensions - a revenue-enhancing capability made possible by the modularity, space-efficiency and flexibility of the ABB concept.

The ABB solution is so efficient that the required capacity of the onboard power plant is typically 10 percent smaller than carriers with traditional propulsion systems.

Other key benefits of the electric propulsion system include vastly improved maneuverability, faster stopping times (seven minutes against the 20-30 minutes of mechanical propulsion systems) and blackout prevention.

ABB pioneered the world's first electric propulsion system in 1983 and has since delivered more than 350 electric propulsion systems for all types of vessels, including the world's largest cruise ships - Royal Caribbean's Freedom and Genesis class of liners.

ABB electric propulsion solutions are complete and include electric propulsion motors, variable speed propulsion drives, power distribution systems and power generation plants. All ABB electric propulsion products are manufactured in ABB factories dedicated to marine applications.

ABB (www.abb.com) is a leader in power and automation technologies that enable utility and industry customers to improve their performance while lowering environmental impact. The ABB Group of companies operates in around 100 countries and employs more than 120,000 people.

More from Materials