ABB Commissions High Voltage Power Transmission Link in Namibia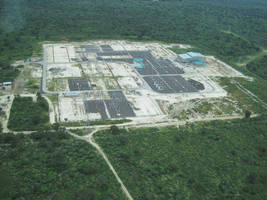 Caprivi link interconnector helps strengthen electricity network in southern Africa

Zurich, Switzerland - ABB, the leading power and automation technology group, has commissioned the Caprivi link interconnector built for Namibia's national power utility, NamPower. The high voltage transmission system connects the electrical grids in Namibia and neighboring Zambia, providing a new route for power imports. It was officially inaugurated by Namibia's President, His Excellency Hifikepunye Pohamba.

The 350 kilovolt (kV), 300 megawatt (MW) link is ABB's first HVDC Light (high-voltage direct current) transmission connection commissioned using overhead lines instead of underground or underwater cables. The 950-km link provides a vital connection to facilitate power flow across Namibia, and helps strengthen the electricity network in southern Africa.

"The new Caprivi Link Interconnector will secure power supplies, strengthen grid reliability and facilitate power trading in the region," said Martin Gross, head of the global Grid Systems business, a part of ABB's Power Systems division. "Our HVDC Light technology is ideally suited to enable the efficient transmission of electricity and integrate clean renewable energies like hydro power."

"The Caprivi Link Interconnector, connecting electricity grids in Namibia and Zambia will ensure reliable power transfer capability between the east and west of the Southern African Power Pool (SAPP)," said NamPower's marketing and communications officer, Tangeni Kambangula.

It is also the first electrical connection between the Caprivi region of Namibia and the rest of the country, and will supply power to the region if normal supplies from Zambia are disrupted. Even larger islanded parts of the Namibian and Zambian grids can be supplied by the DC link, which maintains frequency control and thereby avoids power outages.

ABB was responsible for system engineering, design, supply and installation of the two converter stations. The project sets new benchmarks by extending the voltage for HVDC Light technology to 350 kilovolts (kV), and is the first time the technology is being implemented for long-distance overhead transmission lines.

ABB's innovative and environmentally friendly HVDC Light is a high-voltage direct current transmission technology that is capable of stabilizing weak electricity networks by means of powerful voltage control. The design also allows for a bi-pole extension to 600 MW.

ABB has delivered over 28 converter stations using HVDC Light systems during the past decade. The technology will play a key role in integrating renewable power generation, such as wind and solar. For more information, visit www.abb.com/hvdc

ABB (www.abb.com) is a leader in power and automation technologies that enable utility and industry customers to improve performance while lowering environmental impact. The ABB Group of companies operates in around 100 countries and employs about 117,000 people.

More from Agricultural & Farming Products