Abatement System features microwave plasma and wet scrubber.
Press Release Summary: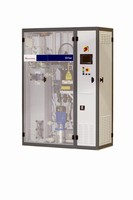 Addressing gas abatement challenges arising from dielectric and polysilicon etch processes used in semiconductor manufacturing, Sirius(TM) 6000 system reduces fab greenhouse gas emissions by 95% over wide range of total flow rates and perfluorocompound (PFC) concentrations. High-density plasma delivers more energy to abatement process, reduces PFC gases to hydrogen fluoride (HF), and prevents creation of harmful by-products, such as carbon tetrafluoride (CF4).
---
Original Press Release:

Edwards' Innovative Sirius(TM) Microwave Plasma Abatement System Delivers Highly Efficient Destruction of Greenhouse Gases



Low cost-of-ownership system targets gases produced during etch processes

CRAWLEY, WEST SUSSEX, UK. (9 June 2008)- Edwards, a leading global supplier of vacuum and abatement equipment and services, today introduced the Sirius(TM) 6000 abatement system. Designed for low cost-of-ownership, the Sirius 6000 system addresses greenhouse gas abatement challenges arising from dielectric and polysilicon etch processes used in semiconductor manufacturing. Its innovative design uses an energy efficient microwave plasma in a carefully controlled chemical environment and an integrated wet scrubber to reduce fab greenhouse gas emissions by as much as 95 percent over a wide range of total flow rates and perfluorocompound (PFC) concentrations.

"The World Semiconductor Council has committed to reducing industry PFC emissions by 10 percent from 1995 levels by the year 2010," said Nigel Hunton, Edwards' chief executive officer. "With the change from traditional PFC gases to nitrogen fluoride (NF3) remote plasma cleaning for chemical vapor deposition (CVD) chambers, etch processes have become the major PFC emitters in state-of-the-art 300mm fabs. Our new Sirius 6000 system is specifically designed to address this issue and help semiconductor manufacturers fulfill their commitment to preserving the environment that we all must share."

Plasma abatement has a significantly lower cost-of-ownership than fueled abatement, resulting from lower costs for energy, consumables and maintenance. At the same time, its high-density plasma delivers more energy to the abatement process itself, ensuring effective destruction of both greenhouse gases and potentially toxic by-products. The plasma reduces PFC gases to hydrogen fluoride (HF) and prevents the creation of harmful by-products, such as carbon tetrafluoride (CF4). The hydrofluoric acid and any other remaining byproducts are then removed from the exhaust stream in the integrated wet scrubber, preventing harmful emissions from reaching the atmosphere.

Edwards' new Sirius 6000 microwave plasma abatement system is already deployed and in operation at select customer fabs in Asia and Europe.

For further information about Edwards products, please visit www.edwardsvacuum.com.

About Edwards
Edwards is a leading global supplier of integrated solutions for the manufacture of semiconductors, flat panel displays, LEDs and solar cells and a leader in vacuum technology for industrial, scientific, process and R&D applications. The company employs around 4,000 people worldwide in the design, manufacture and support of high technology vacuum and exhaust management equipment. Edwards invented the concept of the low-maintenance, cost-effective, commercial oil-free 'dry' vacuum pump and offers a wide range of other pumping technologies, and related products, supported by an international sales and service organization.

Company Contact:
Miles Firth
+44 (0) 1293 603451
e-mail: miles.firth@edwardsvacuum.com

More from Chemicals & Gases