AAS Function Available for GCC LaserPro Mercury III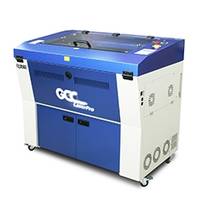 GCC, a global forefront equipment-manufacturing provider in the visual communication industry, is glad to announce an AAS Module available for its LaserPro product line including Spirit series (Spirit, Spirit LS, and Spirit GLS, Spirit GLS Hybrid), MG380Hybrid, Mercury III, T500, X380 and X252 models. The new AAS module obtains better recognition rates.
The AAS module can be installed on the abovementioned GCC LaserPro models to enhance cutting precision. For print and cut applications, it is advised to print out registration marks with graphics to be cut with laser cutters through the AAS module in order to achieve better precision.
The GCC AAS module offers the following auto-correction features which ensure precise contour cuts:
Auto-Tracking:
Recognizes misaligned objects up to 10 degrees of angular misalignment. When users place their working materials randomly on the working table, the AAS system can detect and automatically make adjustments to offset the misalignment for up to 10 degrees.
Auto-Scaling:
When the graphic becomes slightly scaled-down during the printing process, Auto-Scaling is able to amend it within the allowances of +/-7.5mm.
Auto-Keystone Correction:
The AAS module identifies slight graphical distortion generated during the printing process with its Auto-Keystone Correction feature. The tolerance of distortion is +/- 7.5mm.
Auto-Calibration:
With the touch of a button, the patent-pending Auto Calibration will automatically adjust the AAS module to remove offsets.
GCC America, Inc.
20453 E Valley Blvd.
Walnut, CA 91789
Phone: 909-718-0248
Contact:
Alice Wu
email: alice.wu@gccamerica.com
More from Agricultural & Farming Products