AAR Delivers First P-8A Poseidon to U.S. Navy Fleet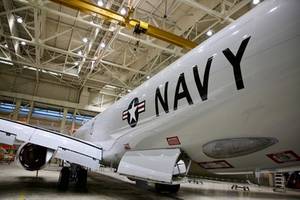 Indianapolis, May 20, 2019 /PRNewswire/ -- AAR (NYSE: AIR), a leading provider of aviation services to commercial airlines and governments, has completed its first planned overhaul, age exploration and planned inspection of its first U.S. Navy P-8A Poseidon (P-8A) aircraft.
As part of a seven-year, indefinite-delivery/indefinite-quantity (IDIQ) contract signed last year with the Navy, AAR is providing heavy depot airframe maintenance, as well as year-round field support, for the U.S. fleet. The P-8A aircraft arrived at AAR for its first Age Exploration Plan Depot (AEPD) visit, which is part of a systematic, scheduled maintenance requirement.
"Delivering a mission-ready aircraft means executing a successful maintenance-repair plan. Many thanks to the AAR team for a job well done," said Capt. Tony Rossi, Program Manager for the NAVAIR's Maritime Patrol and Reconnaissance Program (PMA-290). "As expected, there have been no significant aircraft condition findings. The aircraft continues to fly anti-submarine and anti-surface warfare missions, humanitarian and search and rescue missions around the world, and it's performing well."
"Our team is honored to perform maintenance on the P-8A Poseidon for the U.S. Navy and ensure its operational-readiness for the warfighter," said William Patton, AAR P-8A Program Manager and 20-year U.S. Navy veteran. "With our vast experience in B737s and longstanding working relationship with military programs, AAR's P-8A Program has excelled in meeting strict government compliance standards and maintaining the quality of the aircraft."
In addition to the P-8A program, AAR has also performed service on the U.S. Navy's C-40, Clipper, Harrier Jet Sustainment, C-9 Nightingale and H60R fleets.
All of the maintenance for the P-8A Program is performed at AAR's Indianapolis facility, which has serviced over 2,000 B737 aircraft both for commercial and government customers.
For more information on the U.S. Navy P-8A aircraft, please visit aarcorp.com or Navy.mil.
About AAR
AAR is a global aerospace and defense aftermarket solutions company that employs more than 6,000 people in over 20 countries. Headquartered in the Chicago area, AAR supports commercial and government customers through two operating segments: Aviation Services and Expeditionary Services. AAR's Aviation Services include parts supply; OEM solutions; integrated solutions; maintenance, repair, overhaul; and engineering. AAR's Expeditionary Services include mobility systems and composite manufacturing operations. Additional information can be found at www.aarcorp.com.
About the U.S. Navy/P-8 Poseidon 
The P-8A Poseidon is the U.S. Navy's latest Maritime Patrol and Reconnaissance aircraft. The P-8A Poseidon is the replacement aircraft for the P-3C Orion, which served the fleet for more than 60 years.
Source AAR
Contact:
Mae Fitzpatrick or Daniela Pietsch, Corporate Marketing & Communications, +1.630.227.5100, Editor@aarcorp.com
Web Site: http://www.aarcorp.com
More from Agricultural & Farming Products