AAEON's New BOXER-8120AI Supports 256 CUDA Cores and a Range of AI Frameworks Including TensorFlow, Caffe2 and MXNet
Press Release Summary: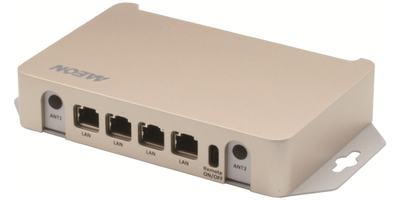 Compact in size measuring 153mm x 30mm x 101mm dimensions and features remote power/reset switch
Offers 8GB LPDDR4 memory, 32GB eMMC storage and a Micro SD slot
Four LAN ports, two USB 3.0 ports along with USB OTG and it is powered by NVIDIA Jetson TX2
---
Original Press Release:
AAEON BOXER-8120 with Jetson TX2: Putting AI Anywhere You Need It
(Taipei, Taiwan – January 31, 2019) – AAEON, an award-winning developer of advanced AI hardware, releases the BOXER-8120AI, a powerful and compact controller for edge AI applications.
Powered by the NVIDIA Jetson TX2, the BOXER-8120AI supports 256 CUDA cores and a range of AI frameworks including TensorFlow, Caffe2, and MXNet. The device is able to process images, video, and speech in real time, and without a connection to the cloud. The system features 8GB LPDDR4 memory, 32GB eMMC storage, and a Micro SD slot.
The BOXER-8120AI with Jetson TX2 is capable of supporting four LAN ports. Combined with the device's compact 153mm x 30mm x 101mm dimensions and remote power/reset switch, this feature means it's perfect for a new type of edge AI street-side parking surveillance system in which the entire system – including cameras and the controller – is fitted high off the ground at the top of a street light pole.
Self-service stores will also benefit from the BOXER-8120AI's unique properties. Four LAN ports and two USB 3.0 ports, along with USB OTG, mean the new AAEON PC can connect to a greater number of cameras and sensors. This enables faster, more accurate identification of shoppers and their purchases. In addition, USB OTG enables easy maintenance, allowing the BOXER-8120AI to connect to a PC or other input devices.
The BOXER-8120AI has been built for tough environments and features a tough aluminum chassis, anti-dust protection, a wide operating temperature range, and a 9-24Vdc power input range.
Speaking about the system, AAEON System Platform Division product manager Ethan Chiu said, "The BOXER-8120AI's compact, cost-effective design and powerful processing abilities mean you'll be able to deploy your AI platform anywhere."
About AAEON
Established in 1992, AAEON is one of the leading designers and manufacturers of professional intelligent IoT solutions. Committed to innovative engineering, AAEON provides reliable and high quality computing platforms, including industrial motherboards and systems, industrial displays, rugged tablets, embedded controllers, network appliances and related accessories, as well as integrated solutions. AAEON also has the hardware and services for premier OEM/ODMs and system integrators worldwide. As an Associate Member of the Intel® Internet of Things Solutions Alliance, AAEON offers customized end-to-end services from initial product conceptualization and board product development to mass manufacturing and after-sales service programs. For an introduction to AAEON's expansive line of products and services, visit www.aaeon.com.
More from Test & Measurement