AAEON and LIPS Join Forces to Accelerate NVIDIA® Isaac™ Adoption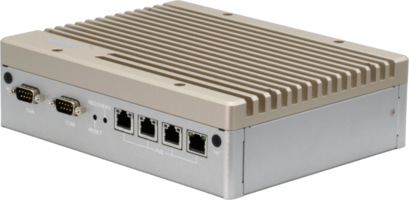 (Taipei, Taiwan – December 3, 2020) – AAEON and LIPS Corp. today announce their success in passing and receiving the official NVIDIA® Isaac™ Certification for the AAEON BOXER-8240AI powered by NVIDIA® Jetson AGX Xavier™ with the LIPSedge® AE400 Industrial 3D Camera. These two platforms together are certified to help accelerate your industrial vision and robotic applications.
NVIDIA® Isaac™ Software Development Kit (SDK) is the industry's first robotic AI development platform to include simulation, navigation and manipulation. These features help Isaac SDK users to quickly program, train, fine tune, revise and deploy industrial AI. With the NVIDIA Isaac certification, the BOXER-8240AI with LIPSedge AE400 camera are guaranteed to help power and accelerate development of smart factory applications including autonomous guided vehicles (AGV), vision guided robots and more.
For this collaboration, AAEON used the BOXER-8240AI embedded AI Edge box PC. Built for industrial applications, the BOXER-8240AI is powered by NVIDIA Jetson AGX Xavier, featuring the 512-core Volta GPU with 64 Tensor Cores, capable of AI processing speeds up to 32 TOPS. The BOXER-8240AI offers rugged, fanless design to operate in almost any industrial environment, with an I/O loadout including four Gigabit LAN ports; features included with industrial robotics and autonomous vehicles and robots in mind.
LIPSedge AE400 Industrial 3D camera features a ruggedized enclosure and IP67 classification designed for stringent industrial environments. It supports Gigabit Ethernet with PoE, allowing for faster data transfer and more flexible deployment. LIPSedge AE400 has seen extensive deployment in industrial applications including 3D vision guided robots and AGV/AMR deployment. LIPS also provides developers a suite of software tools to help build inferences and applications and reduce deployment time.
"With the NVIDIA Isaac Certification Test, the BOXER-8240AI and LIPSedge AE400 are already being deployed together to power AGV/AMRs in automotive smart factories in Europe, helping to deliver parts where they need to go," said Peter Yu, Product Manager with AAEON's System Platform Division.
"LIPSedge AE400 Industrial Camera offers developers great capabilities, enabling an endless range of 3D Vision based robotic applications within the NVIDIA Issac environment", said Luke Liu, CEO of LIPS Corporation.
About LIPS Corporation
LIPS is a global leading provider of AI-enabled 3D Sensing solutions. We design, build, and customize 3D depth cameras, middleware, and provide turnkey solutions to fulfill our customers' applications. Our differentiation comes from our unique strength in delivering customized machine vision and AI solutions that meets customer applications in every industry. For more Information, please visit https://www.lips-hci.com/
About AAEON
Established in 1992, AAEON is one of the leading designers and manufacturers of industrial IoT and AI Edge solutions. With continual innovation as a core value, AAEON provides reliable, high-quality computing platforms including industrial motherboards and systems, rugged tablets, embedded AI Edge systems, uCPE network appliances, and LoRaWAN/WWAN solutions. AAEON also provides industry-leading experience and knowledge to provide OEM/ODM services worldwide. AAEON also works closely with cities and governments to develop and deploy Smart City ecosystems, offering individual platforms and end-to-end solutions. AAEON works closely with premier chip designers to deliver stable, reliable platforms, and is recognized as an NVIDIA® Preferred Partner. For an introduction to AAEON's expansive line of products and services, visit www.aaeon.com.
News Contact:
LIPS Corporation
Benson Lee
E-mail: bensonplee@lips-hci.com
AAEON Technology Inc.
Aaron Ramirez
AaronRamirez@aaeon.com.tw
More from Agricultural & Farming Products