DC to DC Power Supplies (Converters)
AA Series DC-DC Converters are equipped with input differential LC filter.
Press Release Summary: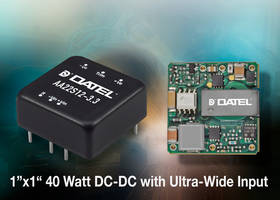 Available with 2:1 Vin, SMD package, AA Series DC-DC converters come in 1 x 1 x 0.4 in. footprint. Suitable for military, industrial, distributed power architectures, telecommunications, and mobile applications, units come with 2250 VDC of isolation. Operated in temperature range of -40°C to +123°C, products sustain up to 100 volt input transients. Converters offer 4.5 - 9, 9 - 36 or 18 - 75 Vin input ranges and Input Under-Voltage Lock-Out option.
---
Original Press Release:
Up to 40 Watts in a 1 in. x 1 in. Package, Ultra-Wide Vin DC-DC Converter
DATEL's AA family supplies up to 40 watts of output power in a standard 1.0" x 1.0" x 0.4" package. This family offers high efficiency up to 89% and 2250 Volts of DC isolation. The AA series feature ultra-wide input voltage ranges of 4.5 to 9, 9 to 36 or 18 to 75VDC and single or dual outputs in an open frame or encapsulated package, while providing precise regulated output voltages.
DATEL Inc. has announced the introduction of a new 1x1 (AA) series that can deliver up to 40 watts of power. This new line of high power-density DC-DC converters from DATEL is the preferred choice for military, industrial, distributed power architectures, telecommunications, and mobile applications.
Offering industry-unique 4.5-9V, and ultra-wide 9-36V or 18-75V input range, the AA series delivers efficiencies up to 89%. Standard output voltages can be trimmed to customer-specific values. These converters offer Input Under-Voltage Lock-Out (UVLO), and are fully protected against output over-voltage and over-temperature conditions. All models have internal over-current and continuous short circuit protection.
The AA series is offered in the standard (1" x 1" x 0.4") footprint and operates over the extended temperature of -40°C to +123°C. It features a positive or negative On/Off Control function and 2250VDC of isolation. In addition, the AA series can be supplied with encapsulated or SMT options.
Please contact DATEL if your application requires customized input/output voltages, alternate pin-out, alternate packaging, UL/CSA60950 or CE Mark 2004/108/EC Certifications. Other options available from DATEL include models optimized for lower power/cost, such as 10, 15 and 30 Watts versions.
Industry standard footprint (1" x 1" x 0.4")
Regulated outputs
Fixed switching frequency
4:1 input voltage range: 4.5 - 9, 9 - 36 or 18 - 75Vin
Remote ON/OFF - positive or negative
-40°C to +123°C operation
No minimum load requirement
Full protection (OTP, OCP, OVP, UVLO and auto-restart)
Withstands up to 100 Volt input transients
On-board input differential LC filter
Meets UL94 V-0 flammability rating
Compliant to REACH (EC) No 1907/2006
Designed to meet UL/CSA60950-1 and IEC/EN60950-1
Available with 2:1 Vin, SMD package and lower cost / power version
40 Watt AA Series Datasheet (PDF): http://www.datel.com/data/ps/aa-40watt.pdf
View AA Series Product Information: http://catalog.datel.com/category/ories-dc-dc-converters-one-by-one-dc-dc-converters
Request a Product Sample: http://catalog.datel.com/request/all-categories?
About DATEL, Inc.
DATEL is an employee owned US-based company dedicated to the military and aerospace market solutions. For several decades DATEL has worked closely with defense and Hi-Rel companies to provide fully qualified and MIL-Certified 883 components that meet customers' specific and stringent application requirements.
DATEL data acquisition products are designed and manufactured in a MIL-PRF-38534 hybrid certified fabrication facility located in Mansfield, Massachusetts, USA. The data acquisition product offering has grown to become one of the industry's broadest, designed to meet the ever-changing requirements of military, HI-REL, medical, scientific and industrial applications. DATEL is ISO-9001 certified, and ITAR registered.
In addition to our standard product offerings, DATEL is a leader in providing custom System-in-a-Package solutions (SIP) for special applications or pin-to-pin replacements for existing or obsolete components.
Contact:
Russell Mitnik
DATEL Business Development Manager
DATEL, INC
Tel: 508-964-5373 (office)
508-496-0358 (mobile)
E-mail: RussellMitnik@datel.com
Contact This Company Download Spec Sheet
Related