A176 GPGPU Computer System is integrated with NVIDIA Jetson TX2 SoM.
Press Release Summary: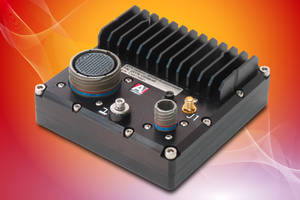 Featuring conduction-cooled design and microSD storage, Fanless A176 GPGPU Embedded Computer consumes less than 7.5 W of power. Suitable for data convolutions and transpositions, image and data manipulation and image recognition and data analysis applications, unit supports extra hardware I/O and software options such as 553, ARINC 429, camera link frame grabber. Product is housed in 25.5 cu-in. small form factor.
---
Original Press Release:
Increased Data Intelligence in New Rugged GPGPU System Provides Critical Real-Time Image Recognition
Aitech's Next-Generation A176 Uses High-Performance, Low-Power NVIDIA Jetson TX2
Technical highlights:
Next-generation rugged GPGPU COTS system enables deep learning capabilities
Faster, more accurate data and image processing for better military intelligence
Offers high performance computing, while drawing very little power
Military intelligence now has access to enhanced data and imaging processing through Aitech Defense Systems' next generation A176, a rugged GPGPU system that incorporates the NVIDIA Jetson TX2 system-on-module (SoM).
Building on the company's field-proven A176 Cyclone GPGPU supercomputer launched in 2016, Aitech's latest high-performance embedded computer (HPEC) uses the Jetson TX2 to provide twice the performance of its predecessor, or run at more than twice the power efficiency, while drawing less than 7.5 watts of power.
The new A176 features the same fanless, conduction-cooled design and measures only 25.5 cubic inches for high performance in a small form factor (SFF) HPEC system.
"With the increased power to performance ratio that the Jetson TX2 infuses into our next generation A176 GPGPU, we believe the use of deep learning in embedded computing is poised to grow exponentially," said Dan Mor, product line manager, Aitech Defense Systems. "The industry hasn't seen this type of processing in a compact form factor to date – it's truly redefining what is possible."
In addition to incorporating the new NVIDIA Jetson TX2 module, the unit now supports more hardware I/O and software options (1553, ARINC 429, Camera Link Frame Grabber), allowing even faster integration to save development time and money.
The internal microSD storage enables more design flexibility to scale the supercomputer to more complex compute-intensive applications. This includes data convolutions and transpositions, image and data manipulation, application of digital filters, image and frame object edge detection, and image recognition and data analysis.
For more information please call 888-Aitech-8 (888-248-3248), visit http://rugged.com/a176-cyclone-gpgpu-fanless-small-ff-redibuilt-supercomputer or e-mail sales@rugged.com.
UPCOMING TRADESHOW: GTC 2017; May 8-11, 2017; Silicon Valley, Calif.
ABOUT AITECH:
Established in 1983, Aitech offers military and space-qualified, commercial off-the-shelf (COTS) embedded computing products for rugged defense, aerospace and astronautics (space) applications as well as provides radiation tolerant and full MIL-SPEC solutions.
The company provides industry-standard, open architecture VMEbus, CompactPCI and high speed serial fabric-based boards, power subsystems, mass memory, enclosures and hardware subsystem integration along with logistics, configuration control, component obsolescence and earned-value management services.
Having pioneered the development of true military VMEbus products for use in mainstream defense and aerospace applications, Aitech utilizes its broad base of off-the-shelf products and technologies to also develop customer-specific solutions, deliver superior cost-performance and reliability, and expedite time to market.
Applications for its products range from mission processors, fire control, mission control and autonomous robotic subsystems for ground vehicles as well as surface and subsurface naval platforms to tactical and strategic fixed- and rotary-wing aircraft, and low- to high-earth orbit and deep space vehicles.
More from Material Processing