A Versatile Solution With an Excellent Track Record: The New Positioner "Eco" Series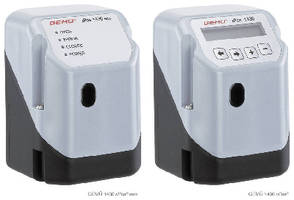 Gebr. Müller Apparatebau GmbH & Co. KG, or GEMÜ for short, has added an "eco" series to its range – more specifically, an eco version of its GEMÜ 1436 cPos® positioners.



The GEMÜ 1436 cPos® positioner has been successfully used for many years for a wide variety of applications. The various configuration options offer users a high level of flexibility. The positioner can also be adapted for use with third-party actuators. The SpeedAP function can be used to make initialisation and commissioning easier, whatever the valve type.



The new GEMÜ 1436 cPos® eco series offers customers the same highly reliable technology as the standard series. By reducing the scope of its performance as well as its range of functions, GEMÜ has been able to significantly pare down the power electronics, resulting in an impressive price reduction of over 30%. The "eco" series was developed in response to the requirements of customers who have no need for the full range of functions and adjustment facilities.



Background information

GEMÜ is one of the world's leading manufacturers of valves, measurement and control systems. Over the course of more than 50 years, this globally focused, independent family owned enterprise has established itself in important industrial sectors thanks to its innovative products and customised solutions for process media control. GEMÜ is the world market leader for sterile valve applications in the pharmaceutical and biotechnology industries.



Today, the GEMÜ Group employs over 800 employees in Germany and more than 1500 worldwide. Manufacturing is carried out at six manufacturing sites in Germany, Switzerland, China, Brazil, France and the USA. From Germany we coordinate global marketing with 26 subsidiaries and with a large distributor network in more than 50 countries, the GEMÜ Group is active on all five continents. GEMÜ will continue to establish itself in future markets with its international growth strategy.



A broad based modular system and adapted automation components mean that individualised standard products and customised solutions can be combined to make over 400,000 product versions.



Further information can be found at www.gemu-group.com.

More from Material Handling & Storage