A Versatile and Economic Choice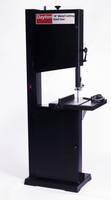 The multi-purpose Band Saws from Dayton effectively cut through a wide variety of ferrous and non-ferrous metals, composites, plastics and wood. They can be used for resawing, contouring and straight and bevel cutting. The #4HEW3 (12-inch floor) and #4HEW4 (20-inch floor) models have a built-in chip chute, paddle On/Off switch, speed reducer and precision blade guides. The #6Y002 (15-inch floor) and the #6Y942 (18-inch floor) models have cast iron worktables, rack and pinion upper blade guide adjustment, a built-in exhaust port and a rip fence.

W. W. Grainger, Inc. (NYSE: GWW), with sales of $6.4 billion, is the leading broad line supplier of facilities maintenance products serving businesses and institutions in Canada, China, Mexico and the United States. Through a highly integrated network including more than 600 branches, 18 distribution centers and multiple Web sites, Grainger's employees help customers get the job done.

More from Transportation Industry Products