A Vacuum That Can Save Your Life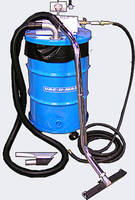 Venturi Powered, Pulse-Jet Filter Cleaning Vacuums for Class II Div II Environments

The OSHA National Emphasis Program for Combustible Dusts, initially released in October 2007 and re-issued for emphasis and increased enforcement in March 2008, has generated many inquiries about suitability of VAC-U-MAX Industrial Vacuum Cleaning Systems for use in Class II, Division 2 environments.

VAC-U-MAX compressed-air powered vacuums, Models 40008, 40012 and 40013, are the first-line offerings for Class II, Division 2 environments due to their bumper-to-bumper grounded and bonded design as well as their reasonable cost and availability. These vacuums meet the NFPA 77 requirements for grounding and bonding. These vacuums also meet the definition of an "intrinsically-safe system." VAC-U-MAX air-powered vacuums do not use electricity and do not generate any heat from operation.

The VAC-U-MAX 40008, 40012, and 40013 air vacs are a "system," they include the vacuum cover, drum, dolly, vacuum hose, and cleaning tools, compressed air hose with quick-disconnect fittings, and polybag drum liners. Because there are no components that are supplied by the customer, we are therefore able to offer a suitable-for-service certification in a Class II, Division 2 environment.

The specific static control components of this family of vacuums are metal vacuum cleaning tools and static-dissipative vacuum hose, stainless steel anti-sparking inlet, static-conductive dust filters, ground strap across gasket between air vacuum cover and drum, drum dolly with static-conductive casters, ground wire connection between air vac cover and drum dolly, static-conductive compressed air hose with metal quick-disconnect fittings, static-conductive polybags liners for collection of combustible dusts inside the drum.

If the compressed air piping network in the facility is grounded (as it should be), then the VAC-U-MAX vacuum will be grounded automatically, eliminating operator error due to failure to connect separate ground wires.

For more information about the features of intrinsically safe vacuums that are quiet, self-cleaning, and offer a choice of universal vacuum accessory kits, contact 1800-VAC-U-MAX (822-8629) or visit our website at www.vac-u-max.com.

More from Test & Measurement