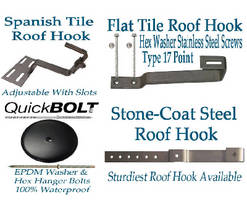 With a recession in full force and a housing market destroyed, Quickscrews International Corporation's CEO and Founder Greg Wiener and Vice President Rick Gentry knew they had to do something different to grow in a struggling economy.

A Solar Universe building down the street intrigued Mr. Wiener and Mr. Gentry, because despite the economy, the solar industry seemed to be growing. The two hoped they could put their woodworking expertise to use in a new market.

Gentry asked a friend that did roof installs to be a consultant so that he and Wiener could pick the man's brain about an industry they were not familiar with.

"I asked him to tell me everything he hated about installing solar on a roof," Wiener said. "I'm a fix-it guy, I'm a solve-the-problem guy. If I can see a problem, if I can hear about a problem, I might be able to fix that problem."

After speaking with their consultant, Gentry and Wiener visited a neighbor in their industrial park that happened to be a solar company, who wasn't very happy with his roof hook supplier and asked if Quickscrews could provide the hooks.

Quickscrews examined the roof hooks and came up with something that would be easier to install. Roof hooks are necessary because the hooks are specifically used for tiled roofing, but you have to figure out a way to fasten something to the roof without directly attaching it to the tile. These hooks allow getting above the tile but still connecting directly to the roof.

Solar roof hooks have holes where the bolts go to attach to the roof. Wiener and Gentry believe having slots instead of holes will be more beneficial to both the installer and the customer.

"If you have a hole, you can only put the bolt where the hole is," said Gentry, "where as if you have a slot you can line it up with more adjust-ability. If you put one bolt in on the edge of the stud in a hole, the other one might miss the stud, which you don't want, so the slots allow you to put the two bolts in where you want and need to and you're not limited by an exact location of a hole."

Being more adjustable means easier and faster installation for the solar roof installer, and the slots set up a better result and attachment, which is good for the customer and a win-win situation for both.

Quickscrews stocks three different roof hooks - flat tile, Spanish tile and stone-coated steel - with test results available under the 'Information' tab on its website.

About Quickscrews:

Quickscrews International Corporation was established over 25 years ago with an objective to provide quality products at a competitive price and bring innovation and support to the woodworking, furniture and cabinet trades. The largest and most complete line in the industry allows customers to choose specifically what is right for their application.

For more information on Quickscrews and Quickscrews products, call (800) 743-6916 or visit www.quickscrews.com.


More from Agricultural & Farming Products