A-Plus(TM) Series Gives Trumpf Fabricators Greater Range of Forming Freedom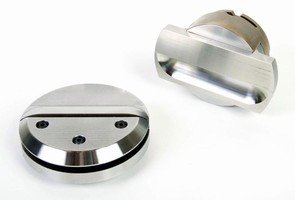 Wilson Tool's new line of Trumpf-style special punch press tooling extends range in the A-dimension

WHITE BEAR LAKE, MINN. (October 2, 2007) - Fabricators who need to create forms beyond the constraints of their current Trumpf-style punch press tooling now have more forming freedom with the A-Plus Series from Wilson Tool International. This new line of special tools extends the range of forming in the A-dimension by an inch or more, allowing for longer and larger forms on Trumpf machines. The tools include louvers, lance and forms, and card guides.

More Range and Enhanced Features

The new A-Plus Series louver tool, which achieves a 4.0-inch (101.6mm) maximum range in the A-dimension, is specially designed with built-in stripping in the lower unit for trouble free sheet travel and simple programming. It also has a replaceable forming unit in the die for cost effective refurbishment.

With an expanded 3.5-inch (88.9mm) maximum A-dimension range, the new lance and form tool allows fabricators to reach beyond the limitations of standard tooling. Lance and forms are particularly useful in applications such as air flow, decoration, location markers, sheer tabs, wire harnesses and clip attachments.

The new card guide tool adds a full inch of range in the A-dimension for a 3.4-inch (86.4mm) maximum. Wilson Tool has reengineered this tool to be more effective and efficient than any competing product, eliminating the need for plastic inserts and secondary operations to reduce long-term costs.

A-Plus Series on Display at FABTECH

Wilson Tool International will showcase the new A-Plus Series and an array of tooling innovations at FABTECH 2007, November 11-14, booth #16107.

Machine Requirements

A-Plus Series tooling is available for most Trumpf Group I machines, the Pullmax 720 machine, and requires a modified cartridge.

About Wilson Tool International

For more than 40 years, Wilson Tool International® (www.wilsontool.com) has been a leading provider of tooling solutions that enhance the performance of sheet metal fabricating machinery worldwide. Wilson Tool is the world's largest independent manufacturer of tooling systems for punch presses, press brakes and punch and die components for the stamping industry. Products are manufactured at the company's world headquarters in White Bear Lake, Minn., USA, at their European facility in Swindon, England, and now at their site in Shanghai, China, which serves a growing customer base in that region. Wilson Tool's network of sales engineers and international distributors operate in virtually every industrialized nation around the globe.

More from Electronic Components & Devices