Electrical Sensors / Detectors / Transducers
A New World of Temperature Monitoring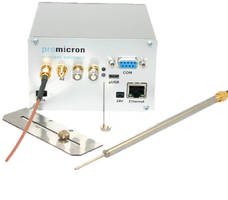 Rehm Thermal systems and pro-micron have teamed up to develop a wireless temperature sensor for thermal processes



Every electronics manufacturer wants stable production processes and precise monitoring of production parameters. In thermal processes such as soldering, drying or curing of electronic assemblies, reliable and reproducible temperature profiling is important for achieving high-quality results. Temperature monitoring in the challenging soldering process therefore has special significance. TiP300 is a new wireless temperature sensor technology developed by pro-micron and tuned to the specific requirements of condensation soldering with the CondensoX series from Rehm Thermal Systems. The technology was exhibited for the first time under the name WPS 2.4 (Wireless Profiling System) at the Rehm booth at this year's SMT in Nuremberg.



The WPS 2.4 is a temperature measurement system, a unique innovation worldwide, used for precise detection of the reflow profile in condensation soldering processes. The innovative temperature sensor technology makes it possible to check and to document at little or no expense the machine and process capability in thermal processes exactly and reliably, without affecting the ongoing production.



The temperature sensor of the WPS 2.4 with firmly attached antenna is fixed to the carrier of the CondensoX soldering systems from Rehm. No power supply is necessary. As the name of the system suggests, no cables are needed to transmit the temperature from the sensor to the receiving antenna. This is done via a radio signal. Evaluation electronics deliver temperature readings live to the system control via a digital interface. In the recorder software, also newly developed by Rehm, the temperatures are plotted graphically in real time. The transmitting and receiving antennae were optimized by pro-micron for this application. The WPS 2.4 therefore guarantees continuous monitoring of soldering processes up to 300 °C and provides a new quality of temperature detection.



Advantages of the WPS 2.4 at a glance:

• 100 % process monitoring

• Simple and continuous quality verification

• Lower cost for profile measurements

• Greater transparency in the detection of machine and process capability

• No disruptive cables



The measuring system is available for the first time in the CondensoX series from Rehm Thermal Systems as an option for new installations and as a retrofit solution. "With the WPS 2.4 we put our clients in a position to meet the growing demands of complete traceability and of industry 4.0", assures Michael Hanke, Chief Customer Officer of Rehm. In the future, the system will also be available for other processes such as convection soldering, annealing and drying.



About Rehm Thermal Systems

Rehm Thermal Systems was founded in 1990 by Johannes Rehm and is a provider of reflow soldering systems and drying systems for the electronics industry as well as a manufacturer of fast firing systems and solar dryers for the metallization of solar cells. With Simply. More. Ideas. our goal is to become technological leaders in all areas of production and offer our customers sustainable, future-oriented products. That means we aim to be more innovative, more reliable and more efficient than our competitors and also offer our customers the best possible options in terms of cost-benefit ratios.



More from Chemicals & Gases