A New Spin on Cleaning - Pac-Vac® Aircomfort Backpack Vacuum Cleaner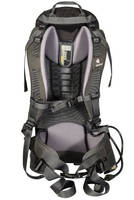 Working with Deuter, leaders in making backpacks for mountain climbing, Tornado has redesigned backpack vacuum cleaner harnesses so that they are exceptionally comfortable. You'll feel the comfort the first time you put on Tornado's Pac-Vac Aircomfort Backpack.



This specially made harness is also breathable. Air escapes the harness on three sides, keeping the user comfortable and cool, improving worker morale and productivity. In fact, the advanced harness and vacuum technology allow the Aircomfort to clean more than 7,000 square feet per hour.



For more information, visit www.tornadovac.com or call toll-free: 800-VACUUMS (800-822-8867).



About Tornado a Tacony Company

Tornado Industries has been engineering quality cleaning equipment for more than 80 years. The company has a long history of developing innovative products and applying the latest technology to increase productivity, reduce costs, and improve safety. Tornado prides itself on always being on the cutting edge of cleaning solutions.











More from Electrical Equipment & Systems