A More Complete Cleaner Disinfectant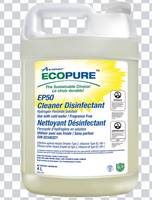 Avmor's EP50 Cleaner Disinfectant is versatile and effective. Not only does this cleaner disinfectant surfaces, it kills bacteria and odors within 5 minutes.
But that's not all. Because EP50 has a neutral pH, it can restore grout to its original appearance and cut through grease on floors, counters, and surfaces. More, use it for streak-free glass cleaning.
To use, apply to mop water or pour into a sprayer. Either way, its one of the most effective, easy to use cleaner disinfectants available today.
For more information, visit http://www.avmor.com/product/ep50-cleaner-disinfectant or call 800-387-8074
About Avmor Ltd.
Avmor was founded in 1948 by Avrum Morrow and Henry Chinks. Being North America's leading manufacturer and marketer of professional cleaning chemicals and sustainable solutions, Avmor has remained in the industry forefront by providing A More Complete Clean. Avmor's commitment to ISO 9001 and ISO 14001 as well as cGMP (current Good Manufacturing Practices) procedures signifies the importance of delivering and ensuring best in class performance cleaning products while remaining competitively priced. Avmor's customized training program and solutions promote and educate the market about the importance of clean to prevent sickness and disease. Our UL ECOLOGO, GREENGUARD Gold certifications attest to our dedication to quality, performance, and commitment as well as our responsibility to always provide optimal cleaning solutions while maintaining and enhancing health and safety standards of people and the environment. Avmor Ltd. is a privately held company.
More from Packaging Products & Equipment