A E International Supports COVID-19 Staff on the Front Lines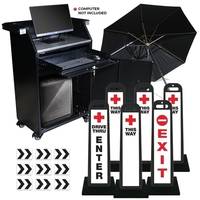 New COVID-19 Equipment from the Security Station
SAN DIEGO, April 6, 2020 /PRNewswire/ -- Today A E International announced the availability of new social distancing, visitor health screening, and drive-thru testing equipment from The Security Station. A E International joins a growing list of companies that are switching gears to provide equipment that will help combat COVID-19 and aid community-based testing. These new offerings will support essential facilities that remain open as they work to curb the spread of the virus. COVID-19 podium packages provide portable storage space and workspace for screening, testing, and line control. They're designed to help hospitals, grocery stores, and other facilities keep visitors and employees healthy.
Mobile workspace with storage, and lighting. Plus, signage for social distancing to mark recommended 6ft distance and directional decals.
"As hospitals and stores began reaching out to us we decided to make the buying process easier by offering packages aimed at keeping their staff on the front lines safe," says Tino Sage, President at AE International. "We're proud to be able to pivot our product focus from hospitality to coronavirus response efforts." 
Social Distancing and Drive-thru Package Features: 
Mobile workspace
Storage
Line control
Directional signage
COVID-19 Equipment from The Security Station is available now and ships quickly. Prices start at $620.94. For more information visit thesecuritystation.com/mobile-healthcare-podiums.
About A E International: A E International is the parent company of The Valet Spot, The Portable Bar Company, The Security Station, Modern Cat Designs, and The Hostess Station—all located in sunny San Diego, CA. We specialize in designing and manufacturing portable hospitality products that are aesthetically pleasing and meet rugged standards.
Media Contact
Amber Parker
A E International Group
(619) 417-2840
marketing@aeinternationalgroup.com
Related Links
COVID-19 Equipment
https://www.thesecuritystation.com/mobile-healthcare-podiums/
More from Labels Tags Signage & Equipment