A/D XMC Modules feature programmable digital down converter.
Press Release Summary: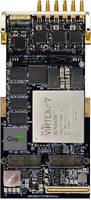 Based on Xilinx Virtex-7 FPGA, 3-channel Onyx Model 71721 and 4-channel Onyx Model 71761 feature suite of built-in programmable cores. Each module has front end A/D converter stage that accepts analog HF or IF inputs on front panel SSMC connectors, with each transformer-coupled to Texas Instruments ADS5485 200 MHz, 16-bit ADCs. With functions for data capture, synchronization, time tagging, and formatting, modules offer turn-key interfaces for radar, communications, or general DAQ applications.
---
Original Press Release:

Pentek Doubles Down on Preconfigured A/D XMC Modules for Radar, Communications and Data Acquisition Applications



• 3 or 4 channel 200 MHz 16-bit A/D converter

• Digital down converter (DDC), interpolation and beamforming IP

• GateFlow Design Kit  for Xilinx Virtex-7 FPGA custom IP development

• Advanced GateXpress technology for FPGA reconfiguration across PCIe



UPPER SADDLE RIVER, NJ – Pentek, Inc., today announced the newest members of its highly popular Onyx® family of high-speed data converter XMC FPGA modules: the 3-channel Onyx Model 71721 and the 4-channel Onyx Model 71761, 200 MHz 16-bit A/D XMC modules based on the high density Xilinx Virtex-7 FPGA. Each has a programmable digital down converter and a suite of built-in programmable cores.



"These modules hit the current sweet spot for performance and functionality with their built-in IP cores that eliminate costly development effort," said Bob Sgandurra, Pentek's director of Product Management. "The increased space for IP in the Virtex-7 also leaves plenty of additional room for customer supplied applications."



A/D Converter Stage

Each module has a front end A/D converter stage that accepts three (Model 71721) or four (Model 71761) analog HF or IF inputs on front panel SSMC connectors, with each transformer-coupled to Texas Instruments ADS5485 200 MHz, 16-bit A/D converters. The 200 MHz sampling rate handles the needed bandwidth for a wide range of signal processing applications. The Model 71721 also includes a two-channel 16-bit 800 MHz D/A converter.



Performance IP Cores

The Model 71721 and Model 71761 come preconfigured with a suite of built-in functions for digital down conversion, data capture, synchronization, time tagging, and formatting, making them ideal turn-key interfaces for radar, communications, or general data acquisition applications. An A/D acquisition IP module is included for easy data capture and delivery to system memory.



The Model 71721 and 71761 each feature a complete beamforming subsystem. The DDC core contains programmable I & Q phase and gain adjustments followed by a power meter that continuously measures the individual average power output. The time constant of the averaging interval for each meter is programmable up to 8K samples. The power meters present average power measurements for each DDC core output in easy-to-read registers. A threshold detector automatically sends an interrupt to the processor if the average power level of any DDC core falls below or exceeds a programmable threshold.



A programmable summation block sums any of the four DDC core outputs, with a power meter, threshold detector and a programmable gain stage to compensate for bit growth. The sum can be selected for output across PCIe. Alternatively, for larger systems, local sums from several boards can be aggregated via a built-in Xilinx Aurora gigabit serial interface, daisy- chained through the P16 XMC connectors.



The Model xx721 also includes a waveform generation IP core and a programmable interpolation filter to support digital upconversion within the D/A.



Boosting Performance with the Onyx Architecture

Building upon the proven design in the Cobalt Virtex-6 family, architectural enhancements in the Onyx family include a doubling of the DDR3 memory in both size and speed to 4 GB and 1600 MHz, respectively. The PCIe interface has been upgraded to Gen 3, delivering peak transfer rates up to 8 GB/sec. The Virtex-7 is more power efficient than previous generations making it easier to utilize larger FPGAs. Optional LVDS and gigabit serial connections to the Virtex-7 are available for connecting to custom high performance I/O.



Development Tools and Software Support

GateXpress® PCIe Configuration Manager is a sophisticated FPGA-PCIe hardware engine for managing FPGA reconfiguration. At power up, the GateXpress manager immediately presents a PCIe target to the host computer for discovery and enumeration, giving the FPGA time to load from FLASH. Once booted, the GateXpress manager offers multiple options for dynamically reconfiguring the FPGA with a new IP image, handling the hardware negotiation and streamlining the loading task. GateXpress also allows dynamic FPGA reconfiguration though software commands as part of the runtime application.



For systems that require custom functions, IP can be developed using the Pentek GateFlow® FPGA Design Kit, extending or even replacing the factory-installed functions. Software support packages are available for Linux and Windows operating systems.



Form Factors

The Model 71721 and Model 71761 XMC modules are designed for both rugged and lab environments and are available in CompactPCI (Models 73721 & 73761), AMC (Models 56721 & 56761), PCIe (Models 78721 & 78761) and VPX (Models 53721 & 53761).



Pricing and Availability

The Model 71721 and Model 71761 XMC modules with 4 GB of memory start at $17,995 USD. Additional FPGA and LVDS FPGA I/O options are available. Delivery is 8 to 10 weeks ARO.



About Pentek

Pentek, an ISO 9001:2008 certified company, designs, manufactures and markets innovative COTS and rugged DSP boards and system recorders for commercial, government and military systems, including radar, communications, medical and industrial control applications. Pentek offers powerful VME, VPX, VXS, FMC, XMC, cPCI, PCIe and AMC boards for data acquisition, software radio and digital signal processing featuring Xilinx FPGAs. Pentek's high-speed real-time recording systems are pre-configured and can be used in the lab or deployed in the field. Pentek equips all boards and recorder products with high-performance I/O including gigabit serial interfaces, powerful software development tools and offers strong DSP software support.



Pentek, Cobalt, Onyx and GateFlow are trademarks or registered trademarks of Pentek, Inc. Brand or product names are registered trademarks or trademarks of their respective holders.



For access to the release and data sheets, please visit: http://www.pentek.com/whatsnew/viewrelease.cfm?index=195



North American Sales Contact:

Mario Schiavone

Pentek, Inc.

One Park Way

Upper Saddle River, NJ 07458-2311

Telephone 201-818-5900, ext. 770

Fax 201-818-5904

Email news@pentek.com  

Website www.pentek.com



International Sales Contacts: Galleon Embedded Computing in Germany at (49) 89 5908 2101, LVD Systems in Italy at (39) 011 966 1319, RECAB AB in Sweden at (46) 8 6830300, Advanced Embedded Systems in the UK, Spain and Portugal at (44) 0 1202 885 675, Sela Electronic Systems in Israel at (972) 3 6479969, MISH International in Japan at (81) 42-538-7650, Nanjing Inspire Electronics Technology in China and Hong Kong at (86) 151 6147 0785, Acetronix Co. Ltd. in Korea at (82) 24202343, ext. 106, and Dynamic C4 Pte. Ltd. in Singapore, Malaysia and Indonesia at (65) 6405 4506. For a list of Pentek representatives and distributors, please visit http://www.pentek.com/contact/replist.pdf.

More from Cleaning Products & Equipment