A/D Converters provide sampling speed of 150 kSps.
Press Release Summary: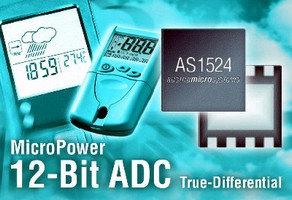 Housed in 3 x 3 mm TDFN package, single-channel, full-differential Model AS1524 and dual-channel, singled-ended Model AS1525 each consume 350 µA at 150 kSps max sampling rate. At reduced speed of 100 kSps, power consumption drops to 245 µA. SPI, QSPI, and Microwire-compatible interfaces enable high-speed data access while minimizing board space. Both 12-bit parts operate from 2.7-5.25 V single supply in environments ranging from -40 to +85°C.
---
Original Press Release:

Austriamicrosystems Launches AS1524/25 Micro-power, 12-Bit, 150Ksps A/D Converter



AS1524/25 line is ideal for applications with strict low power requirements like battery powered data acquisition systems, including remote sensors or pen digitizers, while offering single-ended and fully differential input

Unterpremstaetten, Austria (25 May, 2007) - austriamicrosystems (SWX: AMS), a leading global designer and manufacturer of analog integrated circuits (ICs) for communication, industrial, medical and automotive applications, has expanded its A/D converter portfolio with the new AS1524 12-bit, ultra low-power single-channel
full-differential A/D converter and the AS1525 dual-channel single-ended ultra low power A/D converter.

Combining ultra low-power operation at a high sampling speed of 150ksps with excellent dynamic performance in a small 3x3mm TDFN 8pin package, the AS1524/25 family is an optimal solution for small battery-powered devices and portable data acquisition systems such as remote sensors or pen digitizers with thought space requirements.

Demonstrating austriamicrosystems' continued industry leadership in low power consumption, the AS1524/25, consumes only 350µA (3V) at the 150ksps maximum sampling rate. The advanced automatic shutdown feature places the device between conversions into sleep mode reducing the power consumption significantly at lower sampling speeds. At reduced speed of 100ksps the power consumption drops to 245µA (3V). The consumption
drops down to 2.5µA at a still reasonable speed of 1ksps and stunning 200nA during shutdown.

"These A/D converters are perfect for applications with extremely demanding power consumption and space requirements. One of the key aspects of its design in terms of the reduction in power consumption, is the intelligent automatic shutdown. Thanks to this unique circuitry design the AS1524/25 is always in the perfect operating point drawing a minimum current during all sampling rates," said Walter Moshammer, marketing
director for standard linear at austriamicrosystems.

SPI, QSPI and a Microwire-compatible interface enable high-speed data access while minimising board space. Both devices generate an internal clock; however, they also support an external clock for increased flexibility. Both parts operate from a 2.7 to 5.25V single supply.

The AS1524/25 family is available in an 8-pin 3x3mm TDFN package suitable for operating environments ranging from -40°C to +85°C. For product specific information, to download data sheets or to request free samples from austriamicrosystems' online shop ICdirect, please visit www.austriamicrosystems.com/03products/23_ad_converter.htm

About austriamicrosystems
austriamicrosystems is a leading designer and manufacturer of high performance analog ICs, combining more than 25 years of analog design capabilities and system know-how with its own state-of-the-art manufacturing and test facilities. austriamicrosystems leverages its expertise in low power and high accuracy to provide industryleading
customized and standard analog products. Operating worldwide with more than 1,000 employees, austriamicrosystems focuses on the areas of power management, sensors & sensor interfaces, portable audio and car access in its markets Communications, Industry & Medical and Automotive, complemented by its Full Service Foundry activities. austriamicrosystems is listed on the SWX Swiss Exchange in Zurich (ticker symbol: AMS). For more information, please visit the web site at www.austriamicrosystems.com.

Electronic picture and block diagram are available on request or at
http://austriamicrosystems.com/07presscenter/presscenter_start.htm

For further information:
Technical Contact
austriamicrosystems AG
Manfred Kogler
Marketing Manager Standard Linear
Tel: +43 (0) 3136 500 5274
Fax: +43 (0) 3136 500 5420
manfred.kogler@austriamicrosystems.com
www.austriamicrosystems.com

More from Mounting & Attaching Products