A/D Boards provide 14-bit precision at 400 KHz.
Press Release Summary: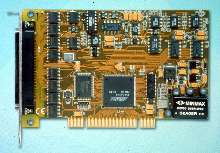 Series RCP xx14 boards offer 16 or 64 SE channels with 3 counter/timers, 18 DIO lines, deep 4096-sample FIFOs, and independent programmable gain on each channel. Software presents data in scope or chart recorder mode. It acts as waveform-generation tool or digital power supply controller. Package supports FFTs on as many as 64 A/D channels in real-time, while streaming data to disk and Excel® files. It controls DIO port direction and offers event triggering based on analog inputs.
---
Original Press Release:
Multifunction A/D: 14-bit Precision at 400KHz

Now you can get a complete spectrum of data-acquisition
functions on a single board from CyberResearch®. Our RCP xx14
boards offer 16 or 64 S.E. channels with 3 counter/timers, 18 DIO
lines, deep 4096-sample FIFOs, and independent programmable gain
on each channel. DA models add two 14-bit analog outputs.

The RCP xx14 series of A/D boards from CyberResearch, Inc. offers a unique combination of hardware capabilities with sophisticated software. For example, the 4096-sample depth of the channel-gain queue gives enormous flexibility in choosing the frequencies and gain levels at which to sample each channel. The 4096-sample FIFO buffer makes it easy to capture the data that's been sampled. And the software included with each board coordinates both functions.

Software for these boards makes collecting and analyzing data easier. It presents data in scope mode or chart-recorder mode. It also acts as a wave-form-generation tool or a digital power-supply controller. The package supports Fast Fourier Transforms on as many as 64 A/D channels in real time, while streaming data to disk and Excel® files. The package controls DIO port direction and offers event triggering based on analog inputs.

In addition to A/D boards - now shipping from stock -CyberResearch, Inc., also offers industrial PCs, displays, and keyboards, as well as CPU cards, D/A, digital I/O, and motion-control systems. For more product information, call Joe Tetreault at 800-341-2525, or visit www.cyberresearch.com
More from Optics & Photonics