A Chinese Manufacturer of Precision Electrical Components Purchases Three High Vacuum Brazing Seco/warwick Furnaces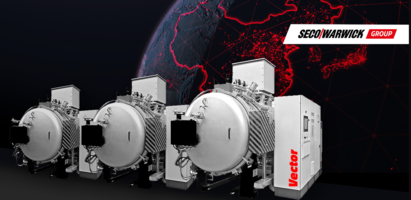 The Chinese manufacturer of a wide variety of vacuum circuit breakers trusted SECO/WARWICK for the second time by ordering vacuum furnaces for metal heat treatment.
The order includes three Vector vacuum furnaces that ensure a very high vacuum level and temperature uniformity within the entire load. SECO/WARWICK is one of the few companies in the world providing this type of equipment for electrical equipment manufacturers.
In 2017, this Partner purchased two SECO/WARWICK furnaces for the first time. Their reliability and high quality of finished production made them decide to develop further production protocols, choosing the SECO/WARWICK Group again as their industrial furnace supplier.
The high-vacuum brazing system consisting of three Vector furnaces will be delivered to the Chinese manufacturer of electrical relays and switches. We are glad that our Partner decided to use our solutions again, because it means that the previous systems work flawlessly. It must also be admitted that the specificity of this electric power control production requires incredible precision. Circuit breakers need a high level of vacuum and temperature uniformity. They are brazed in vacuum furnaces in a very high vacuum; therefore, it was necessary to use an efficient pumping system consisting of a turbomolecular pump and a dry pump. I can proudly say that such a specific solution can be produced by only a handful of companies in the world, and we are one of them. However, our solutions have the best parameters, and this was the decisive factor in choosing SECO/WARWICK as the technology supplier," explains Maciej Korecki, Vice President of the Vacuum Furnace Segment in the SECO/WARWICK Group.
Precise Vector for the high-tech industry
Vector® is the most versatile single-chamber vacuum furnace, operating in over 70 countries. Every day, Vector vacuum furnace systems thermally treat millions of components that meet the highest standards. Vector vacuum furnaces provide an extensive range of processes, and the compact, modular design allows users to adapt the furnace to specific needs. Therefore, these systems are one of the most famous vacuum solutions for metal heat treatment.
The Vector furnace family guarantees high quality and surface protection of machined parts. Thanks to consistently achieving tight temperature uniformity, this technology ensures very repeatable operational results. It is a perfect furnace to use in production requiring precision. At the same time, it is a furnace characterized by low energy and process gas consumption. The furnace's low emissivity translates into environmental friendliness, which is in line with the company's philosophy - SECO/ECO.
"We are highly active on the Chinese market. Our reputation is growing; hence, it is unsurprising that subsequent Asian companies equip their machine parks with SECO/WARWICK furnaces. It is also important that existing customers return after a few years and place new orders. On the Chinese market, long-term relationships with customers are an important value. We want to provide our partners with solutions that will allow them to expand their business and achieve their goals related to production, quality, and profitability," concludes Liu Yedong, Managing Director of SECO/WARWICK China.
An efficient pumping system is a key to success
The vacuum level in the furnace is maintained by vacuum pumps. Depending on the application – a single pump or a combination of mechanical, diffusion and/or turbomolecular pumps are used. The turbomolecular pump used in this application is a sophisticated type of mechanical vacuum pump. The turbomolecular pump features high degassing velocity in the particle flow area and high compression ratio, using less energy than diffusion pumps and without oil vapor pollution.
SECO/WARWICK - a partner for the Chinese market
China is an important region for SECO/WARWICK. More equipment for metal heat treatment enters this market from year to year, and more often it is produced locally in SECO/WARWICK's Chinese plants. The SECO/WARWICK Group provides solutions to China's largest companies, most of which are included in the Global Fortune 500 list. The recent growth in market demand led SECO/WARWICK to the expansion of local production of additional product segments.
This new contract for the Vector furnace supply shows how the values of partnership, quality and a proven solution have earned SECO/WARWICK many references on the Chinese market.
Contact:
Katarzyna Sawka
Marketing VP
SECO/WARWICK Group 
Email. Katarzyna.Sawka@secowarwick.com 
Tel: +48 512 811 648
Related