8835 GPS Clock offers less than 1x10-12 frequency accuracy.
Press Release Summary: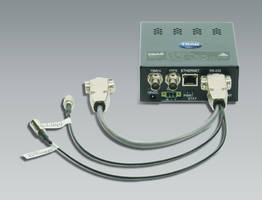 Operating at -30°C to +60°C temperature range with TNC GPS receiver port, 8835 GPS Clock provides 1 PPS accuracy with less than 50 nanoseconds RMS. Featuring 10/100 base-T Ethernet interface, unit leverages NTP, SNMP, Telnet, SSH, and FTP network protocols for status and control. Operated with 24 VDC, 48 VDC, or 100-240 VAC power source, unit is suitable for defense, SatCom, and wireless applications.
---
Original Press Release:
50-Channel GPS Reference Clock Serves SatCom, Defense, And Wireless Applications
TRAK Microwave, a Microwave brand of Smiths Interconnect, has announced the addition of a GPS Time and Frequency Clock to its wide range of product offerings.
The 8835 GPS Clock boasts extreme power and interoperability options while maintaining industry leading GPS accuracy and reliability. While tracking GPS, this click exhibits a frequency accuracy of <1x10-12 and a 1 PPS accuracy with <50 nanoseconds, RMS. The proprietary oscillator steering discipline algorithm can enhance the RMS accuracy of either the double oven crystal oscillator, or optional enhanced rubidium oscillator for greater depths of accuracy.
In order to increase interoperability, the 8835's 10/100 base-T Ethernet interface can leverage a range of network protocols including NTP, SNMP, Telnet, SSH, and FTP for status and control . The unit can also accept a variety of power sources including 24 VDC, 48 VDC, or 100-240 VAC with an external AC/DC converter.
Suited to defense, SatCom, and wireless applications, this highly compact and configurable device operates from -30oC to +60oC with a TNC GPS receiver port. For more information, visit the TRAK Product Library to download a full datasheet on the 8835.
About TRAK
TRAK Microwave Corporation designs and manufactures RF and microwave passive components and sub-assemblies for the defense, space and established reliability industrial communities. The products include a range of standard products and application specific solutions in coaxial, microstrip or waveguide technology which provide our customers and prospective customers with a broad choice of technologically differentiated solutions with an unrivalled existing portfolio of ferrite isolators, circulators, transitions, terminations, loads and couplers optimized to meet exacting requirements and environments.
About Smiths Microwave
Smiths Microwave, www.smithsmicrowave.com is a leading provider of components, sub-assemblies, antennas and system solutions, primarily for defense, aerospace, and telecom applications, that test, filter, protect, and process high-frequency signals for wireless communication networks. As a family of brands, Kaelus, RadioWaves, TECOM, TRAK, Transtector, PolyPhaser, LORCH, TRAK Limited, Millitech, EMC Technology, and Florida RF Labs provide exacting solutions for antenna systems for the military and commercial aerospace, transceivers, frequency sources, timing systems, component applications and a wide range of innovative RF, Microwave and surge protection solutions for the wireless telecommunications sector.
Alongside Smiths Connectors and Smiths Power, Smiths Microwave is part of the Smiths Interconnect division of Smiths Group, www.smiths.com, a global leader in applying advanced technologies for markets in threat and contraband detection, energy, medical devices, communications and engineered components. Smiths Group employs more than 23,500 people in over 50 countries.
For more information contact:
Mark Cressman
Smiths Microwave Subsystems
813-901-7200