825-TA Container Transport System accommodates round, rectangular and square containers.
Press Release Summary: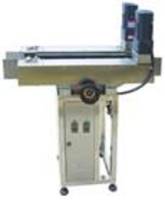 Featuring leveling pads and stainless steel construction, Dalemark Series 825-TA accommodates round, rectangular and square containers. Allowing minimum and maximum product diameter of 1/2 and 4 in. respectively, unit exhibits minimum and maximum speed of 7 and 80 fpm respectively. Measuring 28 in. L x 22 in. W, device features net weight of 175 lbs. With 110 or 220 VAC input, unit works with C.I.J. printers and offers belt overhang of 8 in. per side.
---
Original Press Release:
Container Transport System
The Dalemark Series 825-TA is designed to be used for either standalone or in-line applications to provide a simple C.I.J. support stand for applying ink jet copy to the top, sides or bottoms of various filled or unfilled containers. These units provide easy accessibility to the print head for cleaning or maintenance. Round, rectangular and square containers are readily accommodated. Systems include Leveling Pads and full Stainless Steel Construction.
                                             Features and General Specifications
• Minimum product diameter -1/2 "                           • Dimensions: 28" L x 22" W
• Maximum product diameter 4"                                • Bed Height 28"-34"
• Dual 1/8 H.P. Transport Belt Motors                       • Minimum Product Height 3/4" 
• Minimum Speed - 7 fpm                                          • Max. Conveyor Height 36"
• Maximum Speed - 80 fpm                                       • Works with all C.I.J. Printers
• Variable Speed Drive                                               • Net Weight: 175 lbs.
• Easy Height & Width Adjustments                           • Electrical Req . : 110VAC or 220VAC (specify) 825-TA.
• Belt Overhang - 8" /side.
For additional product information contact:
DALEMARK INDUSTRIES, INC.
EXCEL PARK II
575 PROSPECT ST., BLDG. 211
LAKEWOOD, NJ 08701
Fax 732-367-7031
E-Mail: sales@dalemark.com
Website: www.dalemark.com