8-Bit Microcontroller provides 128 KB Flash memory. .
Press Release Summary: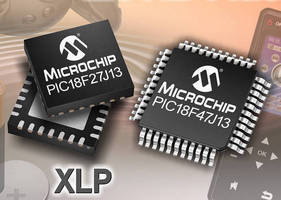 Housed in 28-pin package, Model PIC18F47J13 features XLP technology for eXtreme Low Power consumption and mTouch(TM) capability for implementing capacitive touch sensing user interfaces. On-chip 12-bit ADC delivers accuracy required for advanced sensor, instrumentation, and measurement applications. With sleep currents down to 9 nA, MCU extends battery life in security systems, remote controls, wireless sensor networks, and portable medical devices. It is also available in 44-pin package.
---
Original Press Release:

Microchip Announces Industry's First 8-bit Microcontroller with 128 KB Flash Memory in 28-pin Package



PIC® MCU Features XLP Technology for eXtreme Low Power Consumption, On-Chip 12-bit ADC and mTouch(TM) Capacitive Touch-Sensing

CHANDLER, Ariz., [NASDAQ: MCHP] - Microchip Technology Inc., a leading provider of microcontroller, analog and Flash-IP solutions, today announced the PIC18F47J13-the industry's first 8-bit microcontroller (MCU) to feature 128 KB Flash program memory in a 28-pin package. Also available in a 44-pin package, the PIC18F47J13 MCU features XLP technology for eXtreme Low Power consumption and mTouch(TM) capability for implementing capacitive touch sensing user interfaces. Additionally, an on-chip 12-bit Analog-to-Digital Converter (ADC) delivers the accuracy required for many advanced sensor, instrumentation and measurement applications.

Many of today's applications must consume very little power to extend battery life and reduce electricity demands. The PIC18F47J13 MCU's combination of high memory density and low power in small-footprint packages keeps power budgets and bill-of-material costs low. These features enable low-power, battery-controlled applications such as security systems, irrigation systems, remote controls, video-game controllers, wireless sensor networks and portable medical devices.

"Customers have requested an 8-bit MCU with 128 KB Flash program memory, eXtreme Low Power consumption and a 12-bit ADC for portable applications," said Mitch Obolsky, vice president of Microchip's Advanced Microcontroller Architecture Division. "With sleep currents down to 9 nA and flexible wake-up sources, the PIC18F47J13 MCU extends battery life, while providing generous code space and a robust peripheral set."

Development Tool Support

The PIC18F47J13 MCU is supported by the PIC18 Explorer Board (part # DM183032, $99.99) and PIC18F47J13 Plug-In Module (part # MA180030, $25). Additionally, designers can use Microchip's complete suite of standard development tools with the new MCUs, including the user-friendly and free MPLAB® IDE and corresponding suite of emulators, programmers and development boards, along with the MPLAB C or HI-TECH C® compiler for PIC18 MCUs. For more information, visit the Microchip development tools Web site (http://www.microchip.com/get/6BNN).

Packaging, Pricing & Availability

Package options for the PIC18F47J13 MCU include 28-pin QFN, SOIC, SPDIP and SSOP packages, as well as 44-pin QFN and TQFP packages. Pricing starts at $2.11 each, in 10,000-unit quantities. Samples can be ordered today, at www.microchip.com/get/T721. Volume-production quantities can be purchased today, at www.microchip.com/get/UU23. For further information, contact any Microchip sales representative or authorized worldwide distributor, or visit Microchip's Web site at http://www.microchip.com/get/FEL8.

About Microchip Technology

Microchip Technology Inc. (NASDAQ: MCHP) is a leading provider of microcontroller, analog and Flash-IP solutions, providing low-risk product development, lower total system cost and faster time to market for thousands of diverse customer applications worldwide. Headquartered in Chandler, Ariz., Microchip offers outstanding technical support along with dependable delivery and quality. For more information, visit the Microchip Web site at http://www.microchip.com/get/T48T.

Note: The Microchip name and logo, HI-TECH C, MPLAB, and PIC are registered trademarks of Microchip Technology Incorporated in the U.S.A., and other countries. mTouch is a trademark of Microchip Technology Inc. in the U.S.A. and other countries. All other trademarks mentioned herein are the property of their respective companies.

Block Diagram

http://www.microchip.com/get/94G8

PIC18F47J13 PIM

http://www.microchip.com/get/PWCN

More from Controls & Controllers