780W External AC/DC Adapter features LED display.
Press Release Summary: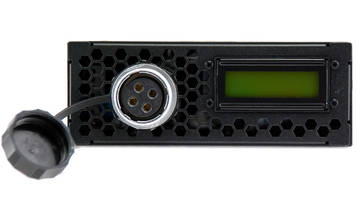 Housed in metal powder-coated enclosure, 780W External AC/DC Adapter comes with detachable/removable DC cable with screw locking mechanism. Suitable for powering laptops, adapter measures 325 mm Length x 110 mm Width x 40 mm Height with 1.32 kg adapter and 0.38 kg cable weight. Designed with high-speed fans and ventilation ports for thermal management, product features power switch for turning on/off.
---
Original Press Release:
Eurocom 780 Watt AC/DC Adapter Addresses Power Bottlenecks for High-Performance SLI Laptop Vendors and Users
Eurocom has developed the world's first 780 Watt External AC/DC Adapter that is ideal for high-performance SLI laptop developers as well as users and weighs only 2.9 pounds.
"The EUROCOM 780W External AC/DC Adapter/Power Supply brings an unprecedented level of mobile power to owners of high-performance SLI laptops, VR users, and overclockers who require more power than has been available before this innovative solution," said Mark Bialic, Eurocom President. "On top of the performance and capability, this adapter is also loaded with features such as the LED display, detachable/removable DC cable with screw locking mechanism, power switch, auto switching capability, and dual high-speed fans for thermal management."
As laptops continue to increase in performance and power consumption, the AC adapters that power them have not kept pace. To combat this, Eurocom has been supplying customers with either a single 330 Watt adapter or two 330 Watt AC Adapters connected to the laptop through a dongle connector. While the 660W solution was able to provide sufficient power to the chassis and internal components, it was not a convenient or mobile solution. To resolve this, Eurocom has been developing a higher wattage adapter solution for several years.
Now available, a 780W AC Adapter/Power Supply solution that is only slightly larger than a single 330W solution can provide more than enough power to laptops with top-of-the-line SLI graphics cards, socket-based desktop CPUs, multiple storage drives, and multiple memory modules with adequate headroom for overclocking the CPU and GPU(s).
"There is a serious lack of AC adapters for laptops that are equipped with (dual) SLI graphics like the Clevo P870DM, MSI GT83VR, Alienware 18, Asus ROG G800" stated Mark Bialic. "Even though the quality and specs of these laptops are very high, they come with two independent AC adapters that are supposed to provide enough power to run SLI high-performance cards at full speed. However, the problem is that two AC adapters are not very practical, and on the top of that, an extra adapter is needed to connect them together. So the idea to provide one instead of two was driven by our customers, especially because the single option is lighter, smaller and has its own cooling system."
The 780 W AC/DC Adapter/Power Supply was developed to power the high-performance laptops that Eurocom specializes in, such as the Sky X9E2 and Sky X7E2. This high-efficiency AC adapter can be applied to a variety of high-performance applications, where high efficiency, highly mobile, rugged power supplies are needed. The EUROCOM Sky X9E2 can consume upwards of 600 W during heavy load due to its support of dual NVIDIA GeForce GTX 1080 graphics in SLI, an Intel Core i7 7700K desktop processor, up to four DDR4 SODIMM, four storage drives, a 17.3" 4k display and Thunderbolt 2 peripherals. The 780 W AC Adapter has plenty of overhead to accommodate future technology as well as extreme overclocking so a lack of power never holds our customers back.
"The 780W AC/DC Adapter brings an unprecedented level of convenience to owners of large desktop replacement notebooks that would normally require two 330W AC adapters. Whether the customer is a traveler that benefits by having one less item to lug around in their backpack or briefcase, or a customer that uses their laptop in the same place every day, the reduction in clutter and weight are things that are easy to appreciate," says Brenner Fox, Technology Tester, Overclocker, reviewer of 780W AC adapter. "The LCD panel that shows the power draw is wonderful."
Brenner Fox continues, "this product supports all Clevo and MSI notebooks that use the four-conductor DIN-type connector. With plans to offer a variety of removable cords with different connections at the laptop end, this product has potential to become an item of interest for all high-performance notebook owners."
The 780W AC/DC adapter is equipped with two high-speed fans and ventilation ports to manage the thermals of the internal components of chassis. Since the AC adapter has high efficiency the internal, built-in cooling system rarely kicks in and when it does the high-speed fans make little noise.
Unique Features:
LED Display A LED display gives users a real-time breakdown of the amps, volts, and wattage.
Detachable AC and DC Cables § Allows for easy mobility and setup.
Power Switch : Convenient power switch to turn adapter on or off to conserve power.
Thermal Solution : Dual high-speed fans for thermal management.
Auto-Switching Capability : The range of input voltage is from 90Vac to 264Vac to accommodate worldwide deployment.
Locking DC Cable : Heavy-duty screw locking mechanism ensures the DC cable does not accidentally detach.
Industrial-Grade Heavy-Duty Metal Chassis : A metal powder-coated enclosure provides a simple yet classy exterior that won't feel out of place in your home or office.
Physical Characteristics Dimensions:
12.8" / 325mm Length
4.3" / 110mm Width
1.5" / 40mm Height
DC Cable Length:
Weight:
Adapter: 2.9 lbs / 1.32 kg
Cable: .85 lbs / .38 kg
About Eurocom:
Eurocom is the leading developer of long lifespan, fully upgradable notebooks, as well as, high-performance mobile workstations and servers since 1989. Eurocom prides itself as an Industry leader in providing ground-breaking technology and continues to engineer innovative solutions that inspire individuals and companies to new growth and development. For more information on Eurocom, please visit us at www.eurocom.com.
Product Page/Specifications: http://www.eurocom.com/ec/configure(2,404,0)ec
Contact:
Braden Taylor
@EurocomTech
613-656-7961
More from Computer Hardware & Peripherals