7500 Series Electronic Fuel Injection Engine is suitable for Hustler FasTrak mower.
Press Release Summary: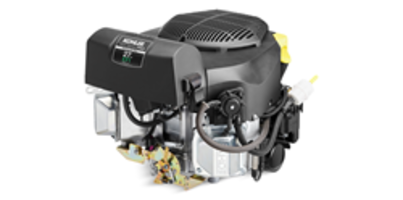 7500 Series Electronic Fuel Injection Engine enables user to Just Turn the Key and Go™. Unit uses an oxygen sensor which monitors amount of fuel injected. Product helps to keep the fuel fresh for a longer time.
---
Original Press Release:
KOHLER® EFI Technology to be Highlighted on Hustler FasTrak Mowers
7500 Series EFI engine brings enhancements to popular ZTR line for 2018 model year
KOHLER® is excited to announce the availability of it 7500 Series EFI (Electronic Fuel Injection) engine on select models of Hustler® FasTrak® mowers beginning in the 2018 model year. The KOHLER 7500 Series EFI engine will extend several benefits to FasTrak users, including quick and easy starting, enhanced fuel efficiency, and relief from carburetor-related issues and repairs.
Widely utilized in today's automobiles, EFI systems precisely meter fuel in the engine to optimize performance. KOHLER's unique closed-loop EFI technology utilizes an oxygen sensor in the engine's muffler, which continuously monitors the amount of fuel injected. If the fuel mixture strays from an ideal level, the sensor triggers adjustments to the amount of fuel injected into the system.
In addition to delivering optimal fuel efficiency, EFI technology provides improved power and enhanced reliability as well as turnkey starting. The KOHLER 7500 Series EFI engine allows users to Just Turn the Key and Go™ and also helps keep fuel fresh longer.* Because EFI systems replace carburetors, carburetor-related issues are also eliminated, including the buildup of damaging residue and corrosion that can occur when using ethanol-blended gasoline.
"We're very excited to introduce a new fuel-injected engine option to our customers," said Brad Unruh, director of product strategy for Hustler Turf Equipment. "The Kohler 7500 EFI engine for the Hustler FasTrak will deliver the added benefits these engines offer, including reduced fuel consumption, reduced emissions, and less servicing. Fuel injected engines are increasing in popularity and we feel this is the start of adding more engine choices to our residential line-up," Unruh added.
The Hustler FasTrak is a premium residential Zero-Turn Radius (ZTR) mower. Several models are available within the line with a variety of features, including an incredibly-rugged frame and front forks, commercial-grade welded steel decks; commercial-grade transmissions; and premium bolstered internal-suspension seats. For additional product details or to locate a nearby Hustler dealer, visit www.hustlerturf.com.
About Hustler Turf Equipment and Excel Industries, Inc.
Founded in 1960 and based in Hesston, Kansas, Excel Industries is a leading manufacturer of premium commercial and residential turf equipment. Excel introduced the world's first zero-turn mower under the Hustler brand, in 1964. Excel Industries has a global distribution network of more than 2,200 U.S. dealers and 40 distributors worldwide.
About KOHLER Engines
Kohler began manufacturing engines more than 90 years ago and has continually enhanced its product lineup in an effort to help make life easier and more profitable for end users around the globe. Today, the company offers a full array of gasoline, diesel and gaseous-fueled engines – up to 134 hp. – which are supplied to equipment manufacturers worldwide in the lawn and garden, commercial and industrial, agricultural and construction markets. To learn more, visit http://www.KohlerPower.com.
About Kohler Co.
Founded in 1873 and headquartered in Kohler, Wis. Kohler Co. is one of America's oldest and largest privately held companies. With more than 50 manufacturing locations worldwide, Kohler is a global leader in the manufacture of kitchen and bath products; engines and power systems; and owner/operator of two of the world's finest five-star hospitality and golf resort destinations in Kohler and St Andrews, Scotland. For more details, please visit KOHLER.com.
More from Waste Management & Waste Handling Equipment