6-Lamp T5 Fluorescent High Bays deliver 5000 lumens each.
Press Release Summary: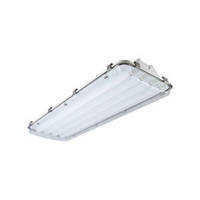 Delivering 30,000 lumens at 92.59 lumens per watt efficiency, T5HO 6-Lamp T5 Fluorescent High Bays life meet 40,000 hours averaging 12hrs per start on commercial facility. Lamps are available in lensed, caged and open styles at 3000 K, 4100 K and 5000 K temperatures with minimum CRI of 85 and are used in warehouses and manufacturing facilities.
---
Original Press Release:
Access Fixtures Launch New 6-Lamp T5 Fluorescent High Bay Light Fixtures
 Access Fixtures announces the launch of its new 6-lamp T5 fluorescent high bays. The 6-lamp T5s with Philips Advance ballasts are available in three styles: Lensed, caged, and open. Compared to less-efficient T12 lamps that emit approximately 2,000 lumens, these T5s deliver a superior 5,000 lumens each.
With T5HO lamps from Access Fixtures, these fixtures deliver a total light source lumen output of 30,000 lumens with a high efficacy of 92.59 lumens per watt. If installed in a commercial facility averaging 12 hours per start, the rated life leaps to 40,000 hours. These lamps, which are available in three Kelvin temperatures, meet US Federal minimum efficiency standards and have a minimum CRI of 85.
"The new 6-lamp T5 high bays come with Philips Advance Centium Ballasts, the best fluorescent ballasts on the market," says Access Fixtures CEO Steven Rothschild. "Better yet, these T5 fixtures are offered at an unbeatable price with lamps that are efficient, easy, and inexpensive to replace."
If you're a facility manager looking to minimize electricity costs, HENO fixtures can be equipped with motion and occupancy sensors that will turn the lights on only when someone is in the room. Their TCLP certification also means they are environmentally safe and an excellent choice for a range of facilities.
These fixtures are ideal for facilities such as warehouses, manufacturing facilities, and other high-ceiling spaces. Lamps are available in 3000K, 4100K, and 5000K. If purchasing many HENO fixtures or looking to keep extra lamps in stock, you can buy lamps by the case; otherwise Access Fixtures will ship you the exact number of lamps you'll need for each unit. The HENO family runs deep - whether you need fixtures with acrylic lenses, wire guards, or occupancy sensors, Access Fixtures has the best low-cost, energy-efficient T5 fluorescent high bay for you.
About Access Fixtures
Access Fixtures offers factory­-direct commercial, industrial, hospitality, and sports lighting for less. Featuring fixtures with LED, induction, PSMH, and fluorescent light sources and with custom manufacturing capabilities, Access Fixtures builds luminaires and poles to the performance specifications our clients require. Luminaire types include wall packs, area lights, bollard lights, garage lighters, exit and emergency lights, high bays, and more. For more information, visit Access Fixtures at www.accessfixtures.com.
More from Computer Hardware & Peripherals