LED Light Tubes last in excess of 50,000 hr.
Press Release Summary: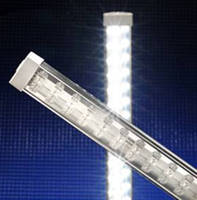 Supplied in lengths from 1-5 ft with 50° or 100° viewing angles, T9 LED Light Tubes have CRI of 80 and contain no lead, mercury, or glass. Each 24 V, aluminum tube includes 2 mounting hardware options that can rotate up to 120°, and lumen output can be dimmed to any desired brightness using remote LED dimmer module. There are 3 available color temperatures: 3300k (cool white), 4200k (neutral white), and 6500k (warm white).
---
Original Press Release:

Energy Efficient T9 LED Light Tubes from Marktech LED Lighting



Marktech LED Lighting Products introduces a versatile LED light source with its new line of T9 LED Light Tubes. With a high CRI (color rendering index) of 80 and its slim design, the T9 is ideal for a variety of lighting applications, including back lighting, cove lighting, pop and display lighting and refrigeration/cooler lighting.

Our T9 light tubes are easy to install and are available in three white color temperatures, 3300k (cool white), 4200k (neutral white) and 6500k (warm white) and are sold in lengths of 1 to 5 feet. These 24V tubes are available in both 50º and 100º viewing angles and each tube includes two mounting hardware options which can rotate up to 120º. Whether your application is in need of the 50º or 120º angle of light, either angle delivers high lumen output which can be dimmed to any desired brightness using our low voltage remote LED dimmer module. Engineered to last in excess of 50,000 hours, these sturdy aluminum tubes virtually eliminate maintenance hassles and replacement cost issues typically associated with fluorescents tubes.

Our T9 LED lights also contain no lead, mercury or glass, making handling and disposal less of a concern, and also is RoHS compliant.

Marktech T9 LED tubes deliver unparalleled performance, reliability, efficiency and light quality. Whether you demand brightness, efficiency, or value Marktech's T9 LED lighting will suit your unique requirements.


Low Profile and Easy to Install

Very Bright and Dimmable

Energy Efficient

Environmentally Sustainable

Adjustable Multi-Angle Mounting Bracket

Virtually Maintenance-free

The T9 LED Light Tubes are currently offered on our web store at www.MarktechLEDLighting.com.

Marktech also offers LED replacements for T5 and T8 type lighting along with a line of LED Bulbs for incandescent replacement. For additional information on any of our LED Lighting products contact Marktech LED Lighting at 3 Northway Lane North, Latham, NY 12110, Phone: (800) 984-5337, FAX: (518) 785-4725, email: sales@marktechLEDlighting.com. Website: www.marktechLEDlighting.com.

About Marktech LED Lighting Products:
Marktech LED Lighting Products is the definitive source for LED lighting products. The website is fully searchable and features LED bulbs, LED ExtendLites, LED Light Panels, and LED Light Tubes. Mark Campito, CEO of Marktech LED Lighting Products, has more than 25 years of experience in the engineering and LED lighting industry, as well as the marketing and sales industries.

For additional information on any of our LED or LED Driver products contact Marktech Optoelectronics at 3 Northway Lane North, Latham, NY 12110, Phone: (800) 984-5337, FAX: (518) 785-4725, email: info@marktechledlighting.com. Website: www.marktechledlighting.com

Related