Oxygen Analyzer utilizes optical fluorescence technology.
Press Release Summary: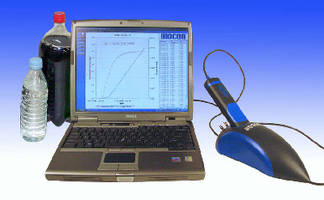 Using platinum chemistry, OpTech - O2 Platinum fluoresces in amount that is directly related to amount of oxygen present. Fluorescence can be read optically making it suited for non-destructive permeation analysis, headspace and dissolved oxygen analysis as well as leak determination in packaging. Optical reader employs visible light to read platinum fluorescence and allows for non-contact readability up to 15 mm. With range of 0.001 to 30% O2, device measures oxygen down to 10 ppm.
---
Original Press Release:

Mocon Intros Cutting-Edge Technology for Non-Destructive O2 Analysis



Minneapolis, MN (November 9, 2008) - MOCON, Inc. (NASDAQ: MOCO) is launching the OpTech - O2 platinum, a new standard-setting oxygen (O2) analyzer using optical fluorescence technology. The system's use of platinum fluorescent material, coupled with state-of -the-art electronics provides significant advantages over other O2 technologies.

The platinum chemistry used in the OpTech - O2 platinum will "fluoresce" or give off light in an amount which is directly related to the amount of oxygen present. This fluorescence can then be read optically making it ideal for non-destructive permeation analysis, headspace and dissolved oxygen analysis as well as leak determination in flexible and rigid packaging.

For non-destructive permeation analysis, a small platinum-based "spot" encased in a substrate is inserted into a package, either in the package headspace or in liquid in the case of a liquid based product. Change in oxygen due to permeation is then read externally over time through a sealed package using a handheld optical reader.

For headspace and dissolved oxygen analysis, the OpTech - O2 platinum employs an invasive probe coated with the platinum chemistry making the system ideal for measuring oxygen in products with very small headspace or the dissolved oxygen in liquid based products.

Finally, the OpTech - O2 platinum is a very efficient tool for line process validation, offering a fast, at-line determination for package leak or integrity.

"This breakthrough technology, coupled with the instrument's design will have a dramatic impact on how companies conduct oxygen analysis," explains Doug Lindemann, vice president, MOCON. "The OpTech - O2 platinum offers a very complementary method of oxygen analysis to MOCON permeation, headspace and leak detection systems. It allows the user to evaluate what is happening to a final package under real-life conditions."

One of the major advantages of the OpTech - O2 platinum over similar systems is ability to measure oxygen down to 10 parts per million (ppm) making it significantly more useful for permeation analysis. In addition, the system has an increased range from 0.001 to 30% O2. Functionally, the platinum material is very stable over a long period of time, is less sensitive to ambient light and is less temperature sensitive than other chemistries, increasing the accuracy of the reading.

The OpTech - O2 platinum also features enhanced usability. The optical reader employs a visible light to read the platinum fluorescence and allows for greater "non-contact" readability (up to a distance of 15mm), resulting in superior performance.

The OpTech - O2 platinum is an ideal multi-purpose O2 analyzer for a variety of beverage, biopharmaceutical and food products.

MOCON is a leading provider of instrumentation and consulting and laboratory services to medical, pharmaceutical, food and other industries worldwide. See www.mocon.com for more information.

Please send sales leads from editorial inquiries to:

Guy Wray

MOCON, Inc.,

7500 Boone Avenue North

Minneapolis, MN 55428 U.S.A.

Phone: (763) 493-7231 Fax: 763-493-6358

Email: gwray@mocon.com

Related