Wirewound DC Resistor offers high-temperature insulation.
Press Release Summary: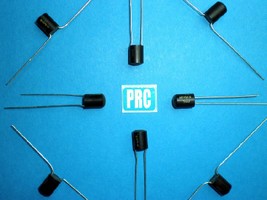 Featuring 2 adjustable axial leads encased in protective high-temperature epoxy shell with non-inductive windings, ¼ W Model RX255N is capable of holding resistance tolerances up to ±0.005% with T.C.R up to ±1 ppm for ohmic values to 150 kW and ±0.001% change/year for stability. Device meets DIN standards and is RoHS-compliant.
---
Original Press Release:

The Precision Resistor Company is Proud to Announce a New & Improved Series of Ultra-Precision Printed Circuit Wire Wound Direct Current Electrical Resistors



Largo, Florida (U.S.A.) August 29, 2008-The PRECISION RESISTOR COMPANY (PRC) has once again trumped the competition with the introduction of the improved RX series printed circuit resistors. Part number RX255N is the 1st component in a series of three to be released from the world renowned wire wound (DC) electrical component manufacturer. The RX255N is a ¼ Watt ultra-precision component featuring two adjustable axial leads encased in a protective high temperature epoxy shell with non-inductive windings. This part is easily capable of holding resistance tolerances up to (+/-) 0.005% with T.C.R(s) up to (+/-) 1 part per million for ohmic values to 150 kilo-ohms with (+/-) 0.001% change/year for superb stability. Keep an eye out for the highly anticipated 2nd & 3rd releases from this remarkable series expected early next year by the leader in wire wound precision component manufacturing. Visit the company website: www.precisionresistor.com to see specifications on this product and the hundreds of other components from their premium wire wound product line.

PRC is a worldwide custom manufacturer of precision electronic components including precision fixed wirewound resistors, sensors, shunts & compensators for critical applications. Resistors have low EMF of less than 0.3 to 1.5 microvolts per degrees C with respect to the copper terminals. Features of resistors include lower temperature rise per watt, low TCR & low EMF, repeatable measurements under load, low ohmic values to 1 milliohm, closer resistance tolerances of plus/minus 0.005 percent and operation over a wide temperature span & great stability under load. Additional features include wide variety of shapes & sizes, measurable & predictable voltage/temperature relationship piece-to-piece, high temperature insulation & assorted diameters of pure copper lead sizes. Capabilities also include short & long production runs, customization to buyer specifications & no minimum quantity orders. Meets DIN standards & RoHS compliant. N.I.S.T. traceability and tape & reel services are also available.

For complete electrical & physical specifications for this product:

http://www.precisionresistor.com/rx255n-25w-ultra-precision-wire-wound-printed-circuit-resistor-pr-25.html

More from Electronic Components & Devices