Etching Machine marks VIN numbers on automotive glass.
Press Release Summary: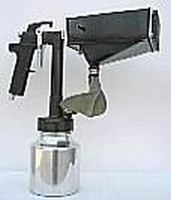 Portable Model 5150 grit etching machine incorporates wide gun opening that can etch 17 character VIN number using ¼ in. high rubber numbers and letters inserted into fixture mounted on gun head. System comes with sandetcher, rubber numbers and letters, bottle of aluminum oxide grit, safety equipment, and 8 ft air hose. Model 5150 can also be fitted with fixture that holds rubber mask to create 3 x 1 in. marking area.
---
Original Press Release:
A Fast and Easy Way to Mark VIN Numbers Into Automotive Glass
Marvel Model 5150 is a lightweight and easily portable grit etching machine. It was designed to have the ability to etch VIN numbers into automotive glass. The wide gun opening will etch all 17 characters of the VIN number. Within seconds, a permanent mark can be made. This model comes complete with a set of 1/4" high rubber numbers and letters that are easily inserted into a fixture mounted on the gun head. In only minutes, all windows on a car can be etched with this easy, permanent system of marking. This system comes complete with Sandetcher, Rubber Numbers and Letters, a bottle of Aluminum Oxide Grit, Safety Equipment and Instruction Booklet. An 8' Air Hose is provided and is ready to be hooked up to your airline. This model can be fitted with a different fixture that will hold a rubber mask. The maximum marking area is 3" wide x 1" high. A blast of grit through the rubber mask produces an etched mark on the surface of the part. For more information on this unit please call, fax or email: Marvel Marking Products Inc 3000 Jane Street Pittsburgh, PA 15203 412.381.0700 Fax: 412.381.2564 Email: [email protected] Marvel Marking Products, Inc., founded in 1969 in Pittsburgh, PA, is a manufacturer of Industrial Marking Devices. Marvel manufactures a complete line of Grit Etching Machines for identification marking and decorative marking. Other products include custom Grit Etching Stencil Masks made of rubber, Brass Stencils, Painting Stencils made of mylar, brass or magnetic material and Cable Reel Stencils; Rubber Printing Stamps for marking Tempered or Laminated Glass; Urethane Masks; Mold Engraving; Industrial Engraving of panels and parts, and custom Stencil Plates and Holding Fixtures. Marvel serves its customers around the world and has been at its present location for 35 years.