Switching Regulator incorporates power-good indicator.
Press Release Summary: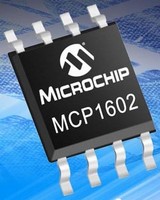 Supplied in 8-pin MSOP or 3 x 3 mm DFN package, MCP1602 indicates when true voltage regulation has been achieved. Combination of adjustable and fixed output voltages, auto transition from PWM to PFM, as well as respective 45 µA and 100 nA quiescent and standby currents helps this 2.0 MHz, 500 mA switcher reduce heat dissipation and extend battery life in portable/handheld electronic devices. Unit operates from 2.7-5.5 V with 4.7 µH inductor and 4.7 µF capacitor.
---
Original Press Release:

Microchip Technology Introduces 2.0 MHz, 500 mA Switching Regulator with Power Good



MCP1602 Switcher Ensures System Data Integrity

CHANDLER, Ariz., Oct. 29, 2007 [NASDAQ: MCHP] - Microchip Technology Inc., a leading provider of microcontroller and analog semiconductors, today announced the latest addition to its analog power-management product family-the MCP1602 switching regulator. The 2.0 MHz, 500 mA switcher has a power-good feature that indicates when true voltage regulation has been achieved, ensuring reliable system behavior. With both adjustable and fixed output voltages, as well as auto transition from Pulse-Width-Modulation (PWM) to Pulse-Frequency-Modulation (PFM) modes, the new switcher reduces heat dissipation and extends battery life in a variety of portable, handheld electronic devices.

The MCP1602 switcher's power-good feature enables system components, such as serial EEPROM and microcontrollers, to be held in reset until known-good regulation is achieved. This ensures that data is never corrupted, which prevents erroneous system behavior. Additionally, the switcher's low quiescent and standby currents of just 45 microamperes and 100 nanoamperes, respectively, coupled with its ability to auto transition into PFM mode when load demands are light, help to extend battery life. The new device also enables increased time between charges, while offering an adjustable output voltage range of 0.8 - 4.5V, a fixed output voltage range from 1.2V to 3.3V, and an input voltage range of 2.7 - 5.5V that covers the entire Li-Ion battery voltage range.

"Microchip continues to add new products to its fast-growing analog power-management product portfolio," said Bryan Liddiard, vice president of marketing with Microchip's Analog and Interface Products Division. "We understand power electronic designers' needs for high efficiency, integration and a small footprint, and the MCP1602 is one more way in which we are responding to these needs."

Art Eck, senior product marketing manager with Microchip's Analog & Interface Products Division, continued, "The MCP1602 is designed to operate with a 4.7 microhenry inductor and 4.7 microfarad capacitor. Given the low cost of these passive components, designers can use the MCP1602 to easily create very small power-supply designs that offer low heat dissipation and high efficiency-essential features for battery-operated, handheld devices."

The MCP1602 switching regulator is ideal for portable, handheld electronic devices used in consumer electronic, medical and industrial applications. Examples include portable computers, PDAs, digital cameras, USB-powered devices and +3.3V or +5.5V distributed systems.

Development Support
An evaluation board utilizing Dip switches to adjust voltage is available (Part # MCP1602EV), to help designers evaluate the MCP1602 switching regulator in their applications. The board is available at www.microchipdirect.com today, for $25.
Device Package Options, Pricing & Availability

The MCP1602 switching regulator is available for sampling today, via sample.microchip.com. The device can also be purchased today at www.microchipdirect.com. Package options include the 8-pin MSOP and 3 mm x 3 mm DFN packages. The devices are priced at $0.93 each in 10,000-unit quantities for the MSOP package, and $1.02 each in 10,000-unit quantities for the DFN package.

For further information, contact any Microchip sales representative or authorized worldwide distributor, or visit Microchip's Web site at www.microchip.com/MCP1602.

Microchip Customer Support
Microchip is committed to supporting its customers by helping design engineers develop products faster and more efficiently. Customers can access four main service areas at www.microchip.com. The Support area provides a fast way to get questions answered; the Sample area offers free evaluation samples of any Microchip device; microchipDIRECT provides 24-hour pricing, ordering, inventory and credit for convenient purchasing of all Microchip devices and development tools; finally, the Training area educates customers through webinars, sign-ups for local seminar and workshop courses, and information about the annual MASTERs events held throughout the world.

About Microchip Technology
Microchip Technology Inc. (NASDAQ: MCHP) is a leading provider of microcontroller and analog semiconductors, providing low-risk product development, lower total system cost and faster time to market for thousands of diverse customer applications worldwide. Headquartered in Chandler, Ariz., Microchip offers outstanding technical support along with dependable delivery and quality. For more information, visit the Microchip website at www.microchip.com.

The Microchip name and logo are registered trademarks of Microchip Technology Incorporated in the U.S.A. and other countries. All other trademarks mentioned herein are the property of their respective companies.

More from Electronic Components & Devices